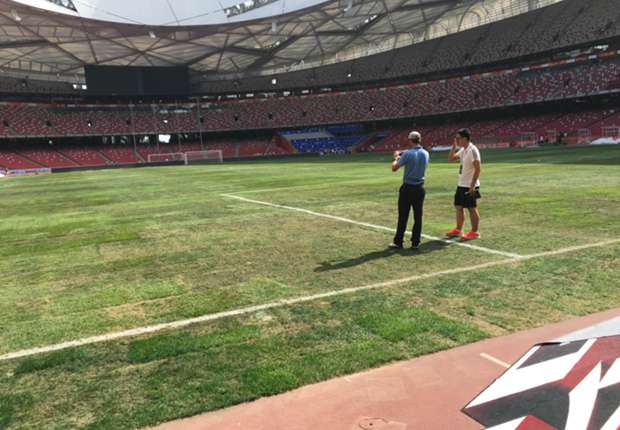 Poor weather conditions in Beijing has seen Jose Mourinho and Pep Guardiola's pre-season meet cancelled, prompting a mixed reaction on social media
---

EXTRA TIME
---
So the first Manchester derby outside of the UK has been called off due to adverse weather conditions and fans are not happy.
Adverse weather conditions and a questionable pitch has seen Jose Mourinho and Pep Guardiola's first meeting in their new clubs now postponed until September 10 when they meet in the Premier League.
The reaction on social media has varied from mild bemusement to the criticism of money-spinning pre-season tours and even questions of Mourinho's mind games at work once again. Take a look!
---
Just back from the Great Wall of China, did I miss anything?

— Sam Lee (@Sammy_Goal) July 25, 2016
---
Really hope players' pre-season isn't too heavily affected by another shambolic money-grabbing tour

#mufc

— James Savundra (@JamesSavundra) July 25, 2016
---
Mind games from Mourinho, this.

— James Dall (@JamesDallESPN) July 25, 2016
---
@ManUtd

Maybe you should concentrate on having a quality pre-season programme to prepare for the season instead of chasing the $$$s

— Graham Triggs (@grahamtriggs) July 25, 2016
---
@ManUtd

that's lame! What about all those fans already there! Should play on any pitch, any weather . Pampered!!!!

— kroywen79 (@kroywen79) July 25, 2016
---
@ManUtd

lol ALREADY RUNNING AWAY AFTER DORTMUND DRUBBING AND A FARCICAL FEW DAYS HAHAHAHAHA

— Dan Hagan (@Eircalht) July 25, 2016
---
@ManUtd

oh perfect. I never wanted this G-vs-M challenge to come early. It calls for doubts

— #patience my foot! (@ekhatorosas8) July 25, 2016
---
@ManUtd

prioritising a commercial tour rather than proper preparations for the season hurting the club again.

— Nick Hoadley (@Nick_Hoadley) July 25, 2016
---
@ManUtd

heaps of time to announce pogba now

— Ben (@RooneyStrike) July 25, 2016