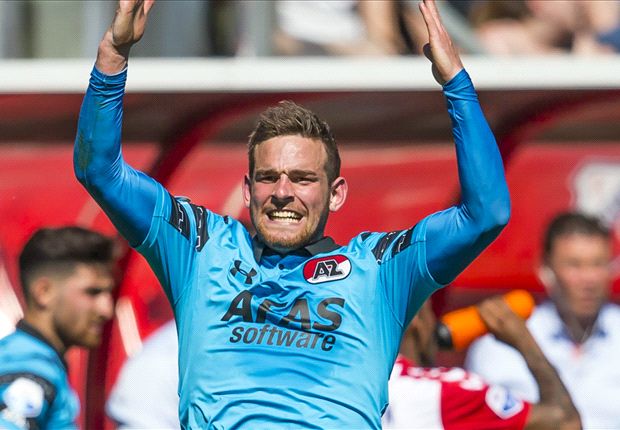 The 22-year-old - hailed as Dutch football's next great hope - looks to be a perfect match for Mauricio Pochettino and a progressive Spurs side, though patience is a must
---
PROFILE
---
Three years ago, having been released from Feyenoord's youth academy and with few teams interested in him, Vincent Janssen would have been forgiven for fearing his career was going nowhere.
Now, though, he is Tottenham's new €22 million signing after finishing last season as top scorer in Eredivisie and emerging as Netherlands' most promising striking hope for the future. His is a story which has defied belief and all expectation.
This time last year, Janssen was basking in the glory of a fine season at Almere City in Dutch football's second tier to earn a move to AZ; from scoring past the likes of Telstar and FC Oss to Ajax, Feyenoord and even Manchester City in the Champions League.
It is a rise no one saw coming. Janssen's reputation has transformed from relative no-mark to stubbornly rejecting the advances of Paris Saint-Germain to secure a dream move to the Premier League.
With his heart set on Spurs from the beginning of the summer, the move to White Hart Lane seemed imminent in early June, but developments hit a snag over AZ's desire to hold onto their star man unless they received a Vito Corleone-esque offer they could not refuse.
---
"We won't let Vincent go for €18m," was technical director Max Huiberts' stance. "We hope he stays so we can get a shot at the top."
For a side who had lost more than half of their starting XI the previous summer, their stance was fair. Janssen had fired them to a fourth-placed finish and a spot in the Europa League with 27 goals in 34 matches and there is a sense they can push further next year.
Another year in the Eredivisie would have done Janssen no harm, but he knew what he wanted and was frustrated with the Alkmaar club's defiance in the face of a reported €17m offer from Spurs.
"I don't know how I will react,"
he said when the possibility of a move failing to materialise was raised
. "AZ are blocking my dream transfer. That's incredibly disappointing."
In the end Mauricio Pochettino got his man and Janssen got his move, though not before an extra €5m was coughed up after 'Moneyball' advocate Billy Beane, a Spurs fan and AZ advisor, reportedly had his say.
AZ's resistance was of no surprise. Despite failing to score in his first seven Eredivisie games in 2015-16, Janssen ended the campaign with a tally of 27 goals to become the youngest player to score more than 25 in a league campaign since Ronaldo for PSV 21 years ago.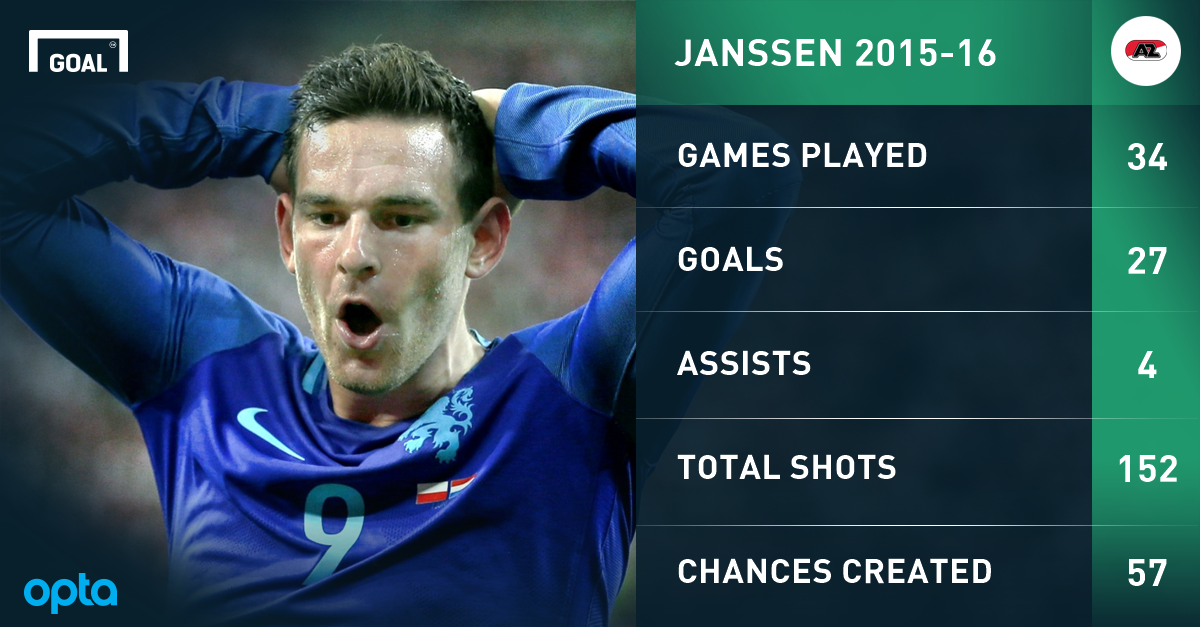 The 22-year-old also follows in the footsteps of Arjen Robben, Wesley Sneijder, Klass-Jan Huntelaar and new team-mate Christian Eriksen in winning the Johan Cruyff Award for Young Talent of the Year and was soon given his chance on the international stage in March.
An eight-minute cameo against France preceded a goal and an assist against England at Wembley in his first start. With three goals in his first five games for the national team, he has emerged as the true No.9 for Oranje in the new post-Huntelaar and Robin van Persie era.
Not only has he been compared with Ruud van Nistelrooy - "my stats are a bit better than his," he cheekily insisted - he is being educated by the former Manchester United star and fellow Dutch legend Marco van Basten, both of whom are part of the national team's coaching staff.
"With Van Nistelrooy, I have had long talks about certain situations," he told
De Telegraaf
.
"He has helped me. That real striker instinct that Van Nistelrooy has, he is trying to give to me. Just like Marco van Basten, who obviously has a lot of experience at the highest level and from whom I can learn a lot."
When young talents emerge in the Dutch league, they are always treated with scepticism from outsiders. The figures of Afonso Alves and Mateja Kezman continue to haunt Eredivisie's reputation despite factors such as bad scouting and squeezing players into teams that do not suit them not being considered. Jozy Altidore joining Sunderland from AZ for £10m is a perfect example of that. Alfred Finnbogason, who failed at Real Sociedad but saved Augsburg from relegation, is another. Considered buys can work, as they did at Southampton with Graziano Pelle and Swansea City with Wilfried Bony.
Janssen is a different story. He still has much to learn, but the platform on which he is building is already high. He has the required technique and versatility to his game needed to succeed in England, but requires the kind of patience Memphis Depay also needs at Manchester United.
Crucially, Pochettino's record for promoting and developing young players bodes well for Janssen and he, having not been hailed as the saviour or key signing but a welcome addition of depth, will be given the freedom to improve, even if he does make mistakes.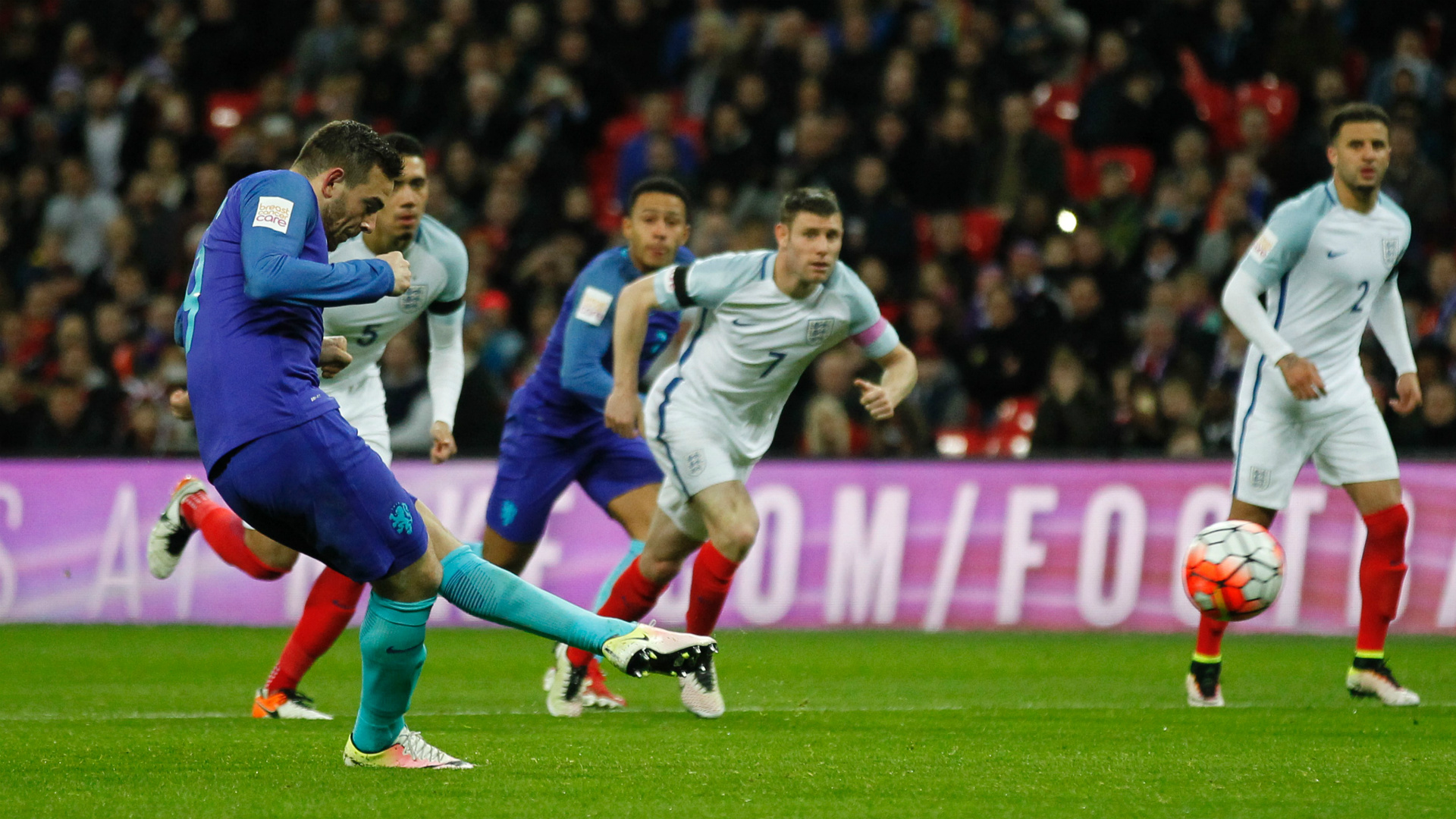 "The plan of the coach is similar to the plan that AZ boss John van den Brom shared with me a year ago at AZ,"
Janssen told Sportmasta on Friday
.
Bearing some similarities in style to Spurs' own trailblazing attacker Harry Kane, Janssen is expected to initially act as back-up to help relieve the pressure on the England forward but there is a possibility of the two of them playing together. Either way, Janssen is not scared of competition.
"People can say what they want, but I'm not afraid of anybody," he said. "Kane is a great striker, but we will see how it goes. We can complement each other and I think I can learn a lot from him."
Two-footed, strong and mobile, Janssen is adept as a target man and capable of bringing other team-mates into play, with his work rate constantly heralded too.
"Not only did he convert many of his shots into goals, he is also a team player who is good at receiving the ball and every match you see he has a tremendous work ethic," former Ajax, PSV and Netherlands player Wim Jonk said.
"The way he has developed through Feyenoord's youth teams, Almere City and then AZ and Oranje is very interesting to see."
The son of three-time Olympic medallist swimmer Annemarie Verstappen, Janssen's determination has taken him far already. Nothing seems to faze him. Being rejected by Feyenoord only spurred him on and he exacted revenge upon them with a hat-trick in a 4-2 win earlier this year.
Now, with his dream move secured, the striker is ready to step up to a new level once again. From the Eerste Divisie to the Eredivisie is one thing, but time will be on Janssen's side in the Premier League. At 22 he remains inexperienced and malleable and, with a positive environment and progressive coach at White Hart Lane, he is right to be confident of becoming a hit at Tottenham.