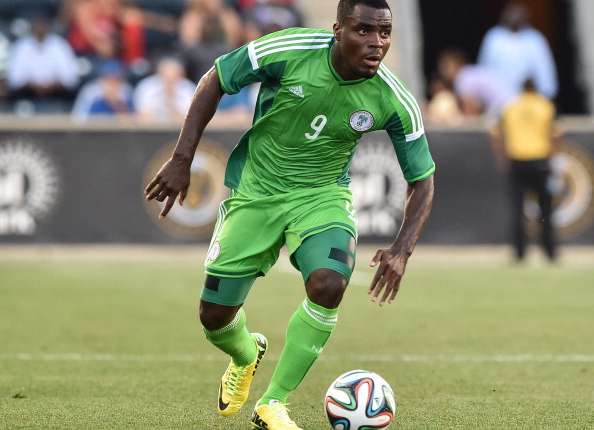 The striker's alarming loss of form indirectly led to the axing of the Big Boss and is a riddle that Amodu Shaibu needs to unravel if Nigeria is to defend her Afcon crown in 2015
Villarreal
's
Ikechukwu Uche
, the arch-nemesis of erstwhile
Nigeria
coach
Stephen Keshi
, top-scored to qualify Nigeria for the 2013 Africa Cup of Nations. By the time the tournament rolled around though, he was no longer first choice, and it is to
Emmanuel Emenike
's credit that not many noticed.
Indeed, when misfortune caused Uche to put in an appearance in the final, his performance served only to remind us he was no longer head honcho upfront. The team sorely lacked a focal point; Uche does his best work inside the penalty area, Emenike likes to roam.
The Otuocha-born striker excelled for the Super Eagles in South Africa, winning the tournament Golden Boot with four goals. We were introduced to a cannon-like right foot, the like of which had not been seen since the legendary Rashidi Yekini was custodian of the No. 9 shirt.
If these events seem like a lifetime ago, it's because, as the cliché goes, a week is a long time in football. Emenike's drought with the national team now stands at 54 weeks, not since his brace against Ethiopia in Addis Ababa to turn the World Cup Qualifying play-off has he found the net. His goals established the Big Boss at the helm, and the lack of them has seen Keshi out.
His decline has mirrored Keshi's; since that brace, Nigeria has won three times in 13 matches: the return leg in Port Harcourt, a hard-fought win over Bosnia-Herzegovina at the World Cup, and the 3-1 win over Sudan in Abuja in October.
In a way, the striker's problems for the national team began right after the Afcon in 2013. After sustaining a hip injury against Mali in the semi-final, he criticised Keshi and the NFF for their lack of interest in his welfare. In his absence, the Super Eagles laboured through the World Cup qualifiers; his goals were not replaced, and this threw into sharp contrast the limitations of strike partner Brown Ideye.
Ideye | Exposed during Emenike's absence
Emenike ultimately returned to the side against Malawi in Calabar, and scored with a delicate chip to re-affirm his ability. By contrast, Ideye was damnably profligate in that game, and that was when the Big Boss decided he had seen enough to put all the team's eggs in an Emenike-shaped basket.
It proved to be an ill-fated decision.
In Ideye, Emenike had the ultimate handyman partner: willing runner, chaser of lost causes, always occupying defenders. For all his physique, Emenike shies away from playing with his back to goal, and is not as amenable to pressuring opposing defenders into mistakes. His lack of work-rate exposed the significant weaknesses of Nigeria's defensive midfield double-pivot.
Clearly then, it was unwise to expect the Fenerbahce man to play in the exact same way as his former partner, without the concomitant drop-off in efficiency. Where once he could profit, Emenike has had to fulfil the gofer-duty that West Brom's Ideye excelled at. The sole beneficiary is the person who took Emenike's inside-forward role; Ahmed Musa has been excellent in 2014, scoring braces against Argentina and Sudan and being Nigeria's most dangerous player against South Africa in September.
That said, we know that Emenike can finish. After all, he did weigh in with 12 goals as Fenerbahce claimed the Turkish Super Lig crown last term, while mostly playing in a similar role alongside Senegal's Moussa Sow. The change of dynamic upfront may reduce a player's impact, but should not totally negate it; Emenike has not scored for Nigeria since Ideye was dropped.
So what else is eating away at the 27-year-old?
Strikers are creatures of confidence, more so than any other set of footballers. There is only so long you can emphasize the primacy of the team over the individual; if a striker is not scoring, the confidence slowly seeps out of him. Already this season, there have been worrying signs that the drought is getting to Emenike.
First was his on-field altercation with Fenerbahce captain Emre during a league game against Gaziantepspor in September following manager Ismail Kartal's decision to substitute him. He admitted as much afterward in an apology to the fans, quoted by the Turkish press as being stressed due to his goal drought.
How can Emenike rediscover his scoring touch?
Then there was his angry public reaction to being dropped for Nigeria's first Afcon 2015 qualifier at home against Republic of Congo. Keshi upbraided him in the press for arriving to camp only on the eve of the game, and claimed he had shown disrespect to his team mates. Emenike went ballistic, sensationally challenging the Big Boss to drop him if his presence was no longer of benefit to the team.
Surprisingly, Keshi did not call his bluff. Perhaps he too understood that this was the frustration of a man under pressure speaking, and refrained from punitive measures. Whether he should have been bold enough to do just that, and much earlier too, is a revisionist argument. It is not Keshi's headache anymore.
This is one of the puzzles interim boss Amodu Shaibu must solve, and that quickly, if the Super Eagles are to book a place in the 2015 Nations Cup. How do you get the best out of a striker who has lost his scoring touch?
On the surface, the signs are not looking good, as Amodu seems set to recall Ikechukwu Uche to the squad. Then again, perhaps with someone else to share the goalscoring burden, we may see the old Emenike again.