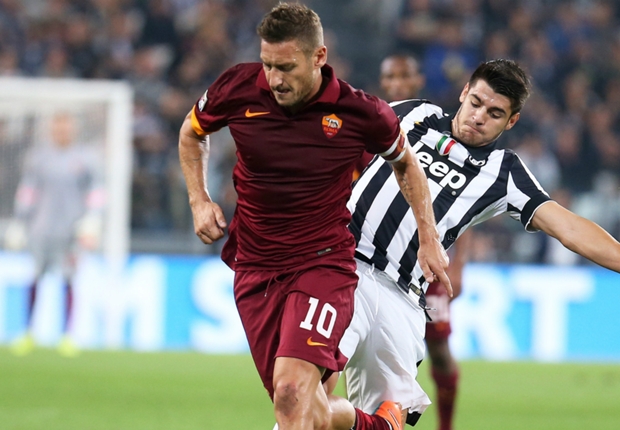 Juventus
striker
Alvaro Morata
believes
Roma
captain
Francesco Totti
would have been better off keeping quiet after Sunday's controversial Serie A showdown between their respective sides.
The Biaconeri triumphed 3-2 in Turin but Totti was enraged by the fact that the hosts had been awarded two contentious penalties by referee Gianluca Rocchi, and that none of the match officials had noticed that Arturo Vidal had been standing in an offside position in front of Giallorossi goalkeeper Lukasz Skorupski when Leonardo Bonucci scored the winner with four minutes remaining.
The 38-year-old forward sparked controversy by stating that
Roma know that they are destined to finish second again this season because of the alleged preferential treatment reigning champions Juve receive from referees
- an allegation that Morata feels that Totti should not have made.
"If they had won, they would not be saying anything," the Spaniard told
Sportmasta
. "It could be that he was just upset about the game, as it's not easy to take when you lose such an important game in the closing minutes.
"Totti is a great player, a historical one, but perhaps he should not have said that."
Morata, of course, was involved in another one of the game's flash points, with the forward receiving a straight red card after clashing with Roma defender Kostas Manolas, who was also dismissed.
The 21-year-old had been guilty of fouling the Greece international close to the touchline just seconds beforehand, prompting a furious reaction from his opponent, but Morata, who has been hit with a one-game ban, remains mystified by Rocchi's decision to give him his marching orders.
"It was really weird," he exclaimed. "I did not do anything. I was strong [in the tackle], but only because it was a game in which you had to be strong.
"It was what my team needed: to stop the game; be aggressive. On the previous paly, he pushed me against the barrier. But this is football.
"I do not know why Manolas had this reaction because they were also kicking us.
"I did nothing and I hope they can do something to reduce it yet but the important thing is that we won."
Meanwhile, Morata revealed that he is settling in well at Juventus following his summer switch from Real Madrid - but the €20 million man admitted that he is only now getting used to the more physically demanding nature of the Italian game.
"Everything is going well," he enthused. "The only thing is how they train here: it's like you're preparing for war!
"There is no recovery time. It's very physical. But I'm coming along.
"At first, it takes its toll on you. I remember when I had to just sit down after the exercises instead of stretching because I couldn´t do any more!
"But it is all for the good of the team. And we have a great team. We can do great things."