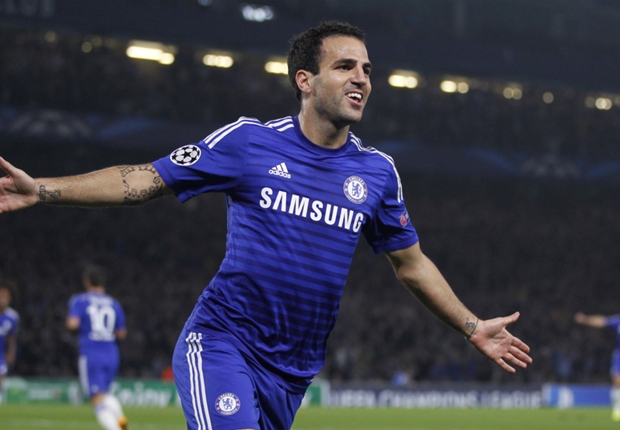 The Spanish midfielder retains great affection for the Gunners after a successful spell there, but his new manager is satisfied that he has fully integrated into the Blues
Chelsea
manager
Jose Mourinho
says that, while
Arsenal
"made" midfielder
Cesc Fabregas
, the Spaniard is now totally committed to the Blues.
Fabregas rose to be Gunners captain under Arsene Wenger before leaving for boyhood club Barcelona in 2011 but signed for Chelsea this summer after struggling to make his mark at the Blaugrana.
The midfielder was open to a return to north London but Arsenal did not come in with a bid and Mourinho is convinced that the star now "loves" his new club.
He told reporters: "Fabregas will never lose his respect and connection with a club where he arrived as a kid and left as a top player.
"Arsenal made him. I wouldn't be happy if he came here saying he didn't care about Arsenal and that he forgot all that and now it's just about Chelsea - but I think he loves Chelsea already.
"He's so happy: the way he plays, the way he's a member of the squad, the way he lives in this little 'blue village'. It is like he's been here for a long time.
"If you ask him now if he regrets the move, I'm sure he'd say no. If you ask him if he'd choose a different option, he'd say no. And if you ask him where he thinks he'll be in five years' time, he'd say he sees himself here in five years' time. He is Chelsea.
"I wanted him because I know the player he is and I knew he was good for the philosophy we wanted for the team," Mourinho continued.
"He's one of not many players who can play as a No.8 or a No.10 so gives me chances to play him in both positions and build a midfield knowing that. This, plus the fact that he was made in England and played for so many years in English football, that's a plus. He doesn't need that adaptation. He was coming back home.
"We knew he was perfect for us. We tried. We tried hard and we succeeded and he's been phenomenal."
Fabregas will come up against his old team for the first time since returning to England on Sunday when Arsenal visit Stamford Bridge but Mourinho has no concerns over whether or not the Spain international should celebrate if he were to score.
"In this game, he should score," the Portuguese remarked. "Then I don't care whether he celebrates or not.
"When my Inter scored three times against Chelsea, I didn't celebrate but you can't imagine how happy I was.
"The point is not whether you celebrate or not but control your emotion and not celebrating is nice. Show some respect. But if you can't control your emotion, you can't. It's all right."
The Blues have started the season in imposing form, winning five and drawing one of their first six Premier League games, but Mourinho doubts his side's chances of pulling off an unbeaten season as Arsenal famously did in 2003-04.
He added: "I don't think we can go through the season without losing. When Arsenal did it, it was something that happened once in a lifetime.
"Look, we've only played six games but, out of 20 teams, only two are unbeaten. Not after 20 games, after six. I think Arsenal were the first to do it – and they will be the last."