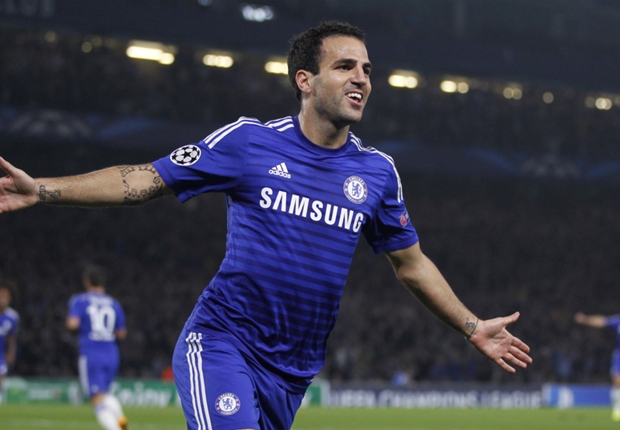 Cesc Fabregas
has insisted he does not bear any bitterness towards
Barcelona
's fans or former boss
Pep Guardiola
over his time at Camp Nou.
The Masia youth academy product was hailed as a returning hero when he rejoined the Blaugrana in 2011, after eight years at Arsenal.
However, Fabregas never managed to nail down a regular berth in Guardiola's starting line-up during his first season back at the club and the remainder of his time in Catalunya continued in the same vein - under both Tito Vilanova and Gerardo Martino - until he was sold to Chelsea this summer.
The 27-year-old says, though, that he still does not regret his decision to return to Barca and claims he holds no animosity towards those supporters who booed him last season.
"My dream was to play for Barcelona and I wanted to try it," the attacking midfielder explained in a interview with
Radio MARCA
.
"I didn't care if it went well or badly. I'm not bothered about what people think of me. I was satisfied when I left Barca: I won titles; I played with friends; I met my wife.
"There were moments that weren't so great, but I consider myself a strong lad. I've never cried or felt bad when a section of the fans has whistled at me."
When pressed on his relationship with Guardiola, Fabregas stated: "All I can say is they were three wonderful years for me. I was happy, and that's all.
"I had expectations which ended up turning into something else. Life is reality.
"I didn't feel cheated or disappointed. I don't expect anything from anyone in football.
"I don't regret anything I've done in my career. I could have chosen a different path, but as it stands I've played at three big clubs under great managers.
"I'm satisfied, but I want more. This doesn't end here."
Fabregas also insisted that he is just as comfortable playing under Chelsea boss Jose Mourinho as he was under Guardiola - despite their contrasting footballing philosophies.
"Of course I like them," he stated. "I like both of them. All styles are worthy of respect."