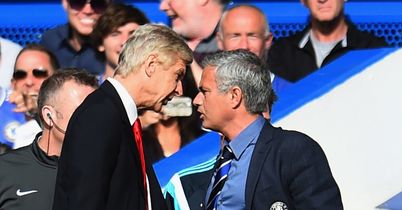 Mark Holmes blasts Arsene Wenger's Chelsea comments, denies Steven Gerrard is Liverpool's main problem but reckons Ross Barkley is Everton's.
Excuses have run out for Wenger
Only those lacking a sense of humour will have failed to chuckle when Arsene Wenger pushed Jose Mourinho on the touchline on Sunday, and only the most easily-offended would want to see the 64-year-old punished by the Football Association.
Pushing players and officials is one thing (note to Alan Pardew), but a bit of handbags between two managers can be laughed off. As long as it doesn't descend into something more serious like eye-gouging, of course (note to Mourinho).
It would be remiss of me not to mention that, having left his technical area to remonstrate about a nasty Gary Cahill tackle on Alexis Sanchez, Wenger remained rather more statuesque after an equally bad challenge from Danny Welbeck on Cesc Fabregas later in the game, but it was the Frenchman's post-match comments about Chelsea's "financial power" that will have irked Arsenal fans.
"They used it in a very efficient way when they had the chances, Wenger said. "Their individual players who can make the difference made the difference - Hazard and Costa."
Given that Arsenal have been at pains to point out their own 'escalation in financial firepower', and considering the Gunners have spent over £70million on two of their own difference-makers, Mesut Ozil and Alexis Sanchez, in the past two years, surely that particular bit of moral high ground has now disappeared for Wenger?
Arsenal
are
now competing with Europe's top clubs in the transfer market, and excuses have run out for them not to compete with those clubs on the pitch, too. Unfortunately, routine defeats against Borussia Dortmund and now Chelsea suggests that is some way from being the case.
The north Londoners are definitely getting stronger by the year and should have more than enough to once again secure a Champions League spot, but they look no more likely to mount a
serious
title challenge this season than at any other point during their drought.
Regardless of the varying difficulties of their fixture lists so far, the fact that they sit a point behind a Manchester United team apparently in crisis is a pretty damning indictment of their start. And United have the excuse of 'transition'.
So too do Liverpool and Tottenham, but Bacary Sagna is the only first-team regular that Arsenal have lost in two years. They should be capitalising on other teams' uncertainty to firmly establish themselves in the top three alongside Chelsea and Manchester City, but instead they find themselves down in eighth going into the second international break.
It may be too early to pay any real attention to the table, but one suspects Arsenal's start is a definite sign of what we can expect from them in the Premier League this season.
Gerrard not the problem at Liverpool
Very little in football is black and white, but there seems to be a desire, in the English press at least, to label players as either brilliant or awful.
Steven Gerrard is a fine case in point. There was much eulogising about the role he played in Liverpool's push for the Premier League title last season, but an unconvincing start to this campaign has seen many journalists pinpoint the Reds skipper as the problem to explain their defensive woes.
There has been an amusing amount of flip-flapping regarding the 34-year-old. One minute he is a talisman, the next he is a liability.
The truth, of course, is that he retains many of the same strengths and weaknesses that have always been present in his game. His set-piece ability certainly has not waned, and he is still capable of picking a perfect pass from 60 yards, but he still sometimes attempts the spectacular when the simple will do, while holding his position has always been an issue for a player that likes to be the match-winner.
None of that is unlikely to change during the twilight years of Gerrard's career, and perhaps criticism should be aimed at Rodgers for not signing a more orthodox central midfielder over the summer given these same defensive problems were existent last season.
However, everybody in the media agreed that Gerrard affected a definite overall net gain on the team from a deep position during the Reds' title charge so it is remarkable that, just seven games later, so many now believe he needs permanently moving or removing altogether if the Merseysiders are to make the Champions League again.
The reasons for their inconsistent start are, of course, much more obvious. They lost their best player, Luis Suarez over the summer, while their other main attacking threat, Daniel Sturridge, has been injured. Either coincidentally or as a result of the duo's absence, Raheem Sterling's form has also dropped off.
Furthermore, three quarters of the first-choice defence has been changed, while several new midfield and forward players have also been added to the mix. One of those in particular, Mario Balotelli, has hardly hit the ground running.
There is no doubt that there are weaknesses in Gerrard's game, but to pinpoint him as the main reason for their early failings after so much change and upheaval is quite remarkable.
Barkley key to Everton
It might sound obvious but, as
Burton Albion manager Gary Rowett pointed out in one of his recent columns for TEAMtalk
, every team needs players that can turn a game.
Much is said about Barcelona's tiki-taka style, but it is Lionel Messi that makes them special. Real Madrid would not be half as an effective counter-attacking team did they not have Cristiano Ronaldo in their ranks, while Eden Hazard's run to win Chelsea a penalty against Arsenal on Sunday perfectly highlighted how a closely-fought game can be decided by a moment of magic from one special player.
No matter how good a manager or their tactics are, it is players that win football matches. Of course Liverpool were going to struggle to win them quite so easily following the sale of Suarez, just as Spurs did after the departure of Gareth Bale.
Everton's disappointing start, meanwhile, proves just how important Ross Barkley has become to their cause.
The 20-year-old's injury may not provide an obvious explanation to the Toffees' defensive problems, but it should not be underestimated how much a player capable of running with the ball benefits a side in that respect.
The benefit such a player provides in an attacking sense is much more obvious, of course. It is certainly unlikely Romelu Lukaku's poor form in Barkley's absence is a coincidence, albeit the Belgian's seeming disinterest during Sunday's defeat at Manchester United cannot be excused.
However, the likelihood is that Everton's form will miraculously pick up once Barkley returns to action, just as Liverpool's will once Sturridge is back in the fold.
Expect then plenty of articles about how Roberto Martinez has resolved the Toffees' defensive problems, and how Rodgers has solved the Gerrard conundrum.
Final thoughts
This column cannot pass without mentioning the ridiculous penalty Michael Oliver awarded to West Brom at Anfield on Saturday, or the fact that Roy Hodgson again overlooked a clutch of proven Premier League defenders to call up Calum Chambers, whose lack of experience and inconsistency was again showed up during a poor display against Chelsea on Sunday.
Well done, fellas.