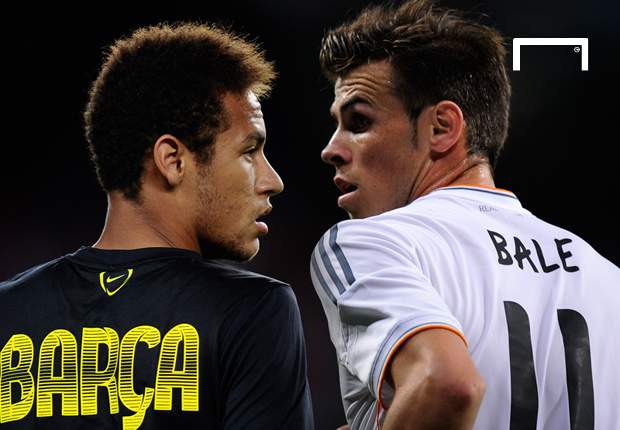 Real Madrid and Barcelona's landmark signings square off against each other again on Sunday with the Liga title race on the line - but who has proved the best investment?
DEBATE
By David Atana & Sams Praise
Two of the most high-profile signings of last summer's transfer window square off in Sunday night's Clasico as Gareth Bale's Real Madrid take on Neymar's Barcelona in La Liga.
The Welshman has come into fine form following a difficult bedding-in period due to injury as Real Madrid have stormed to the top of the league.
For Neymar and Barcelona, 2014 has begun in more desperate fashion as the team have fallen behind their great rivals in league competition and seen the Brazilian sidelined through injury, while the legal saga surrounding his transfer rumbles on.
Everything is on the line on Sunday as Barca attempt to repeat their Clasico victory of the autumn in order to fight their way back into the title race.
Neymar had the better of things that day but Bale's form suggests he could be ready to play a key part in Spanish football's biggest fixture.
With so much at stake, we ask: who has proven the better signing?
Goal
's Jon Fisher and Peter Staunton go head-to-head over the issue …
"HE OUTPERFORMS NEYMAR IN EVERY CATEGORY"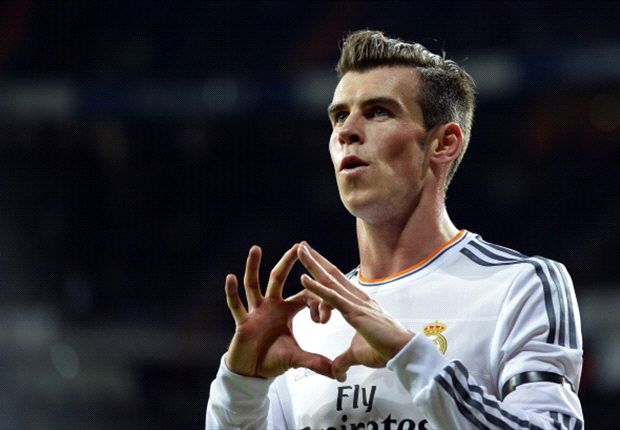 By David Atana
It was always going to be a tough ask for Gareth Bale to justify his world-record transfer fee, not only to the Real Madrid fans but also the star-studded squad at the Bernabeu. Yet, to watch him tear apart the Schalke defence time and again on Tuesday night, supplying goals for Cristiano Ronaldo and Alvaro Morata in a routine 3-1 victory, you could see he was winning the battle.
Not one for boastful proclamations, the unassuming Welshman has had to prove through his performances that Madrid were right to spend so much time, and budget, over the summer to bring him to Spain. Despite being troubled with a couple of niggling injuries, he has lived up to the hype generated from a couple of excellent seasons with Tottenham and is now starting to prosper. Either way you dress it up, he has been impressive.
Statistically he outperforms Neymar in every category. Bale has 14 goals in 27 appearances, including four in seven in the Champions League. In comparison, Neymar has managed 10 goals in 28 games, and three in eight in Europe's elite club competition. Add in the 14 assists for Bale in all competitions versus 11 for Neymar and the picture is starting to become clear.
Barca fans will, of course, argue statistics can be misleading. Broadly speaking they'd be right, but not in this case. In terms of their general impact on their respective teams, there is no argument: Bale has been vastly superior.
While Neymar has struggled for fitness, consistency and a defined role in Barca's well-structured system, Bale has been one of Madrid's stand-out performers, helping them to the top of La Liga. His partnership with Ronaldo and Karim Benzema has given the team a new dimension and has arguably resulted in France international Benzema enjoying the most productive spell of his Madrid career.
It's not unfair to say Neymar's transfer to Barcelona caused a ripple effect which has resulted in off-the-field turmoil and the departure of president Sandro Rosell. And has he made the team better? With Bale, it's not even a question worth asking.
He's been worth every penny.
"HE'S PROVEN IT IN THE BIGGEST GAME OF ALL"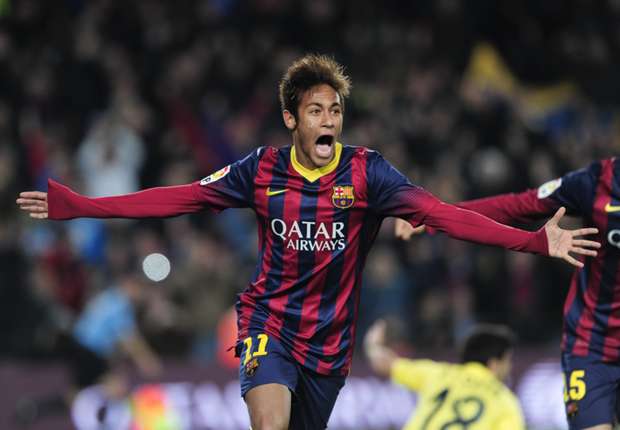 By Sam Praise
The controversy over Neymar's transfer from Santos to Barcelona has overshadowed his on-field impact. Rarely has a young South American prospect crossed the Atlantic and been subjected to as much scrutiny. The circumstances of his arrival and initial scepticism of a European audience mean that Neymar can scarcely take an inward breath on the field without it being recorded.
Despite this intense pressure, in a year in which he is expected to lead Brazil to the World Cup as part of the bargain, the 22-year-old has stood tall. From the day he walked into Camp Nou he has put his head down, worked hard and integrated himself into a complex and demanding Barca system. Not many big-name forward signings in the past few years have managed that.
He has fulfilled many functions for Barcelona so far this season: a winger to stretch the play, foil for Lionel Messi, an incisive dribbler. Seven goals and eight assists in 20 Liga matches prove that he's no productivity slouch. He has three goals and three assists in Champions League play too.
On top of everything else, he has had to deal with a debilitating injury which couldn't have come at a worse time for him. Messi was inching his way back to fitness meaning that Neymar and the admirable way he deputised for the Argentine throughout his own infirmity was largely obscured.
Coming off a full season in Brazil and a lengthy Confederations Cup campaign in the searing heat, Neymar has come into a club with a defined way of playing and a star name who doesn't like sharing the limelight. He proved it in the biggest game of all, against Real Madrid at Camp Nou, when he was the best player on a field which included Messi, Cristiano Ronaldo and Gareth Bale. The manner in which he took the occasion in his stride and demonstrated his capacity to deal with expectations put Gareth Bale's pitiful showing in perspective.
Here is a man who could hit the ground running and for a lower price, too. Neymar has not only acquitted himself well, he has done astoundingly well.
The best is yet to come.