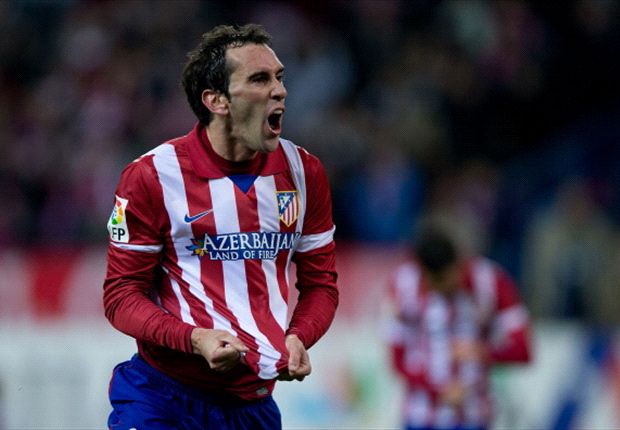 Atletico Madrid
defender
Diego Godin
says
Barcelona
are favourites for their upcoming Champions League quarter-final tie.
The two sides meet at Camp Nou for the first leg on Tuesday, with both enjoying an impressive run of form that sees them separated by just a point at the top of La Liga.
Although it is Atletico who are in pole position domestically, Godin feels the
Blaugrana
are the favourites for the Champions League clash - but is sure his side can put up a good fight against the reigning Spanish champions.
"We have never felt less than anyone," he told
Marca.
"We know what our strengths are and what we need to do in order to win matches.
"Clearly, if you look at this tie, the clear favourite is Barcelona, but we know what our weapons are and that we can do a lot of damage.
"We are very sure what is the best way to go about winning big games against these teams. If you've seen Atletico over the last two and a half years, not much has changed in the way we play and each time the peformance is better individually and as a team, which is the key to success for this team."
The 28-year-old feels Gerardo Martino's side have been underestimated lately and also praised their star player Lionel Messi, but stressed that a collective effort from the
Rojiblancos
can stop him.
"Recently people said there was a lot of uncertainty in Barcelona, but they are in the quarter-finals of the Champions League, the Copa del Rey final and are fighting for the league, so you can't say things are going wrong," he added.
"Now it is a great time, they have a lot of confidence after winning the derby and have great quality individually and as a team and they have been playing together for many years and doing well.
"What can we say about Messi? The numbers speak for themselves, Messi has found his best form again and that also goes along with Barcelona playing well again. Messi is one of the best in the world.
"The best way to stop him is standing well together. He is very good and is able to make a difference, but we are very strong."