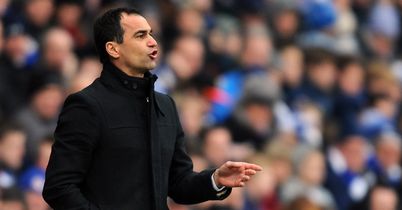 After another Everton win on Sunday, Adam Bate looks at the improvements Roberto Martinez has made from the David Moyes' reign at Goodison.
Everton produced a formidable second-half performance at Craven Cottage on Sunday to beat Fulham 3-1 and extend their winning streak to five.
With Arsenal to play next at Goodison Park, there is a belief that Roberto Martinez's side could claim an unlikely top-four finish this season. But how has the Spaniard done it? We take a look at some of the key facets of their success...
Confidence
Martinez's relentless positivity was elucidated in Tim Howard's comments back in February. While David Moyes enjoyed an impressive record at Goodison Park, as has been shown under the increased scrutiny that comes with the Manchester United job, there was a tendency to focus on stopping the opposition rather than infusing his own players with belief.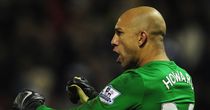 Martinez's optimism has found a receptive audience on the Everton training ground and long-serving goalkeeper Howard articulated that shift in emphasis in clear terms "No matter what game we go into, the focus has not at any point this season been on the other team - it has always been about us," he said.
"You have to do this 40 weeks of the year, it is nice not to come into work every day thinking 'Oh, that's looming ahead'. The manager keeps us bright and bubbly and focused on ourselves. Not always having to look over your shoulder at who is coming next is good.
"We work on ourselves and it's a difference. We'll train on trying to exploit them, as opposed to 'Here is what they are going to do to hurt us and this is what we are going to do to defend against them'. That is not in the manager's nature."
Given those words, it's easy to see why Everton remain unfazed and are playing with such confidence at this critical stage of the season.
Trust
Martinez's attitude is indicative of a manager who is not afraid to empower his players.
Phil Jagielka and Sylvain Distin have long been a solid unit at the heart of the Everton defence and their defensive qualities remain vital to the team's hopes. But the roles have changed under Martinez. Like Tony Adams & Co under Arsene Wenger, the manager has shown an awareness that his experienced defenders were capable of a more expansive game.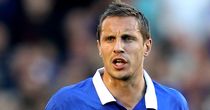 "There will be a bit of uncertainty amongst the lads at first," admitted Jagielka in the summer. "You never quite know if you're the new manager's type of player but he mentioned me as his captain when he spoke to the press so that was nice to hear."
There were teething problems early in a pre-season that Jagielka described as "drastically different" and the team were guilty of overplaying at the back in a defeat to Austria Vienna, but Martinez's trust has since been rewarded.
Jagielka had experience in midfield as a young player at Sheffield United and has since embraced the change with Martinez enthusing about the "real swagger" in his play.
Distin has even raised his game at 36. "I wouldn't say he's just carried on where he left off last season, he has stepped up and gone to a different level," said Martinez. "He has always been paramount in our defensive duties but now he is very important in our style of play and the distribution that he brings to the team."
Passing
That Everton style now involves them building their play from the back with James McCarthy and Gareth Barry always looking to then receive the ball in midfield.
All the key passing and possession numbers have increased this season, providing evidence of this process in action. Everton's total number of passes per game has increased by 15 per cent, while the average number of short passes has risen from 369 last season to 428 this term. It's been easier on the eye.
Wings
Under Moyes, engineering space down the left flank for Leighton Baines to exploit was a vital tactic, and the vast majority of Everton's attacks came down that wing.
It was a viable ploy given that Baines created 116 chances in the Premier League in 2012-13, more than any other player. The effective partnership between Steven Pienaar and Baines was something opponents had to be mindful of.
Martinez has continued to place a priority on the Everton left when attacking. It continues to account for 40 per cent of their attacks - with 28 per cent through the middle and 32 per cent down the right wing.
But what's significant is that the opposite flank is now a potent weapon in its own right. Everton's attacking play has a whole new dimension thanks to Seamus Coleman.
Moyes had been surprisingly reluctant to trust the Irishman at right-back. Coleman turned 23 early in the 2011-12 season, but all 14 of his appearances in that campaign came further forward in midfield rather than at full-back as the manager preferred the more predictable talents of Tony Hibbert, Phil Neville and Johnny Heitinga.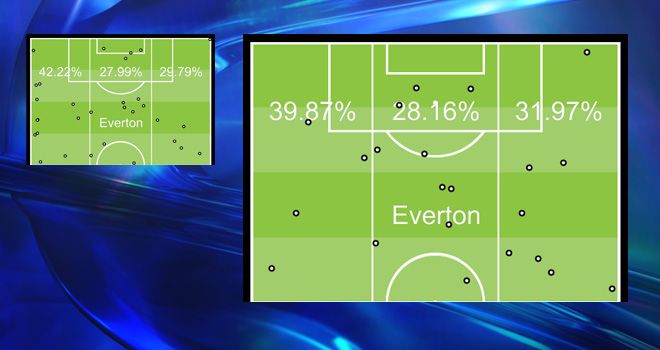 Everton's attack zones and assist locations for both last season (left) and this season (right). They indicate that goals are now coming from both flanks.
Coleman did appear at right-back in just over 60 per cent of Everton's Premier League games last term, but it is under Martinez that he's truly blossomed.
So while the team remain left-side dominant, there is no longer an assists vacuum down the right in the final third. Coleman is even Everton's joint-second highest goalscorer in the Premier League with six strikes this season.
Finally, Everton have a bit of balance to their attacking game - and it's come without exposing the team defensively as Moyes might have feared.
"There aren't many clubs that have as good full backs as Everton," said Martinez. "That's been one of the features of our team so far this season. It's a special balance which we benefit from hugely."
Youth
Coleman has been flagged up as an example of the previous Everton manager's willingness to embrace youth in his team.
However, the player's rise was far from quick and at 25 half of his fellow starters against Fulham were younger than him - four of them significantly so. Ross Barkley, John Stones, Gerard Deulofeu and Romelu Lukaku are all under the age of 21.
By comparison, Barkley was the only player under the age of 22 to start a single Premier League game for Everton last season - and even he got just two starts.
In other words, there were twice as many youngsters in the team in one game against Fulham than the fans saw in the entire of last season. It's injected real enthusiasm into this squad.
Of course, there are a number of old heads too - the aforementioned centre-back duo as well as shrewd loan acquisition Gareth Barry.
But with that environment created, the willingness of the youngsters to work and to learn has been a factor. Everton are a fit group and have scored 17 goals in the final quarter of an hour of Premier League games this season - more than any other team.
Conclusion
If those late goals can be accompanied by a late charge this season, there is the chance to achieve something really significant. Having won five in a row for the first time in 11 years, seven more and Everton will be guaranteed a top-four finish and - barring a Manchester United miracle - Champions League football at Goodison Park.
With Arsenal, United and Manchester City still to come at home, that will be tough. But whatever happens from now until the end of the season, this has felt a lot like progress.
The highest points tally under Moyes was 65. Even two wins from the remaining seven fixtures would surpass that figure. Whichever way you look at it, the Martinez effect has been spectacular.