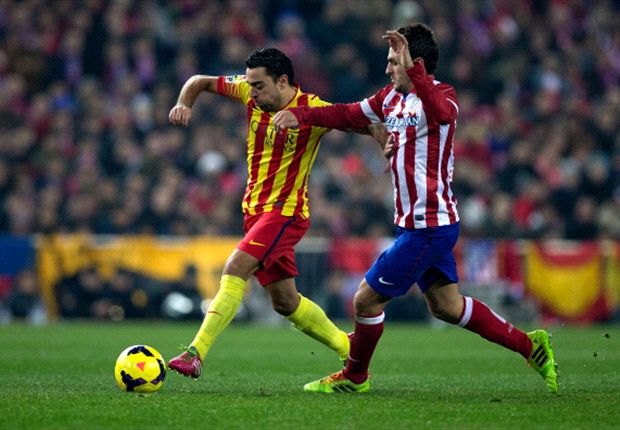 Barcelona
midfielder
Xavi
believes his side's Champions League tie with
Atletico Madrid
will be even as both teams have a great chance of progressing to the semi-finals.
The two sides meet in the first-leg of their quarter-final clash at Camp Nou on Tuesday and both are in good form as they remain separated by just one point at the top of La Liga.
And Xavi feels there is nothing to separate the two sides, admitting that the
Blaugrana
don't like playing against Diego Simeone's side and praising their star striker Diego Costa.
"We're second in the league now but we know we're up against a very strong team," he told Barca's official website. "Atletico Madrid are in brilliant form at the moment.
"Maybe the only handicap we face is that we play the return leg at the Vicente Calderon, but I think the tie is 50-50.
"Perhaps we're slight favourites because of our history. But if we look at how both teams are playing, it's very even. It'll be decided by the details.
"We don't usually enjoy playing them because they don't give you any space. They're good at closing down the areas where we try to create things. In Diego Costa they have a player who's in brilliant form. He makes the most of every situation."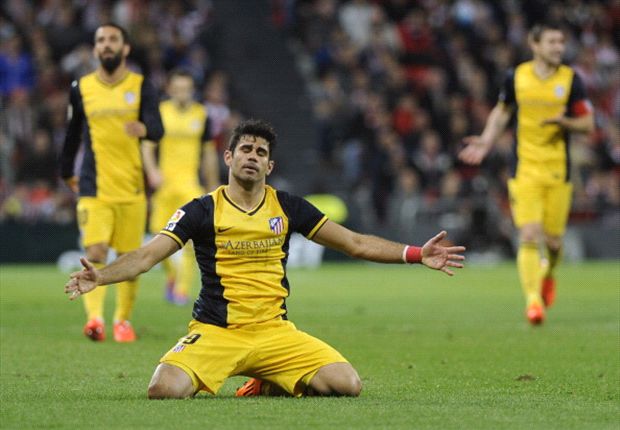 Costa's coming | Atletico's star striker has been in imperious goalscoring form lately
The Spain midfielder says the
Rojiblancos
will set out defensively when the two sides meet and feels neither side will be able to create a lot of chances in both legs.
"Atletico are a tough team, they're very strong physically. They hardly give you any goalscoring chances.
"I don't like playing Spanish teams in the Champions League. Atletico know us very well. The way they play makes them awkward opponents, they're very defensive and good on the counter attack. They have some extraordinary players.
"We won't see many chances in either game because of the way Atletico play."
The 34-year-old went on to discuss what he thinks will be the key aspects of Tuesday's game.
"I can see Barca having more of the ball and we'll try to create more chances than we did in the other three games against them this season.
"One of the keys of the first-leg will be not conceding a goal at home. Preventing the opposition from scoring is a big plus because we usually score in a game.
"We can't give away fouls and corners because they are very strong and have tall players.
"I think the faith and the intensity that makes them believe they can beat any team. Simone has instilled in them an extraordinary winning mentality."