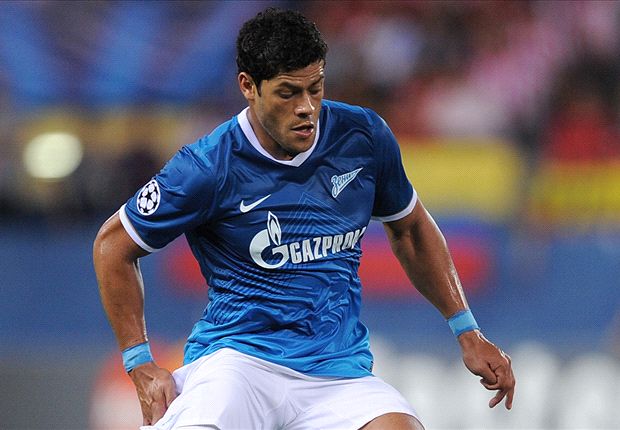 The striker has been linked with moves away from Russia, and Tuesday's clash with Atletico Madrid may be just the platform he needs to catch the attention of more illustrious clubs
COMMENT
By Adesanya Olusesan
There must have been more than a few times over the past 12 months when Hulk wondered whether opting for a move to Zenit St Petersburg was such a good idea.
Certainly, there have been relatively few positives for the Brazilian over the last year. On the pitch, a constant struggle for form - scoring only seven league goals in the 2012-13 season - made for a less than memorable debut campaign, as Zenit relinquished their grip on the Russian Premier League for the first time since 2009.
Nor was there any solace off the field, with a right-wing manifesto from a Zenit fans' group urging the club to avoid signing black and gay players emerging after the forward joined from Porto for a reported €40 million in September 2012.
It has undoubtedly been a difficult time for Hulk but, despite being widely tipped to leave this summer, he remains at the Petrovsky Stadium. Zenit have so far rebuffed any interest in their player, steadfastly insisting that he is happy to stay in Russia for the foreseeable future; a message their front man has not typically contradicted.
"I feel free here," he revealed in an interview with the official Fifa website in September.
"The only thing which has caused me some discomfort was the cold weather in winter. But the city looks very beautiful in winter when everything is covered with snow."
St Petersburg, with its waterways and magnificent architecture, is certainly a glittering jewel amongst Russian cities but Hulk is not there to admire the scenery. While he has shown improvement this campaign, eight goals in 12 league games is comparable to the formidable goal-scoring he exhibited in Portugal. statistics cannot mask the fact that leaving may be the best thing for him.
Though Hulk's quality, particularly his bullish strength and ferocious shot, has regularly been in evidence for the Petersburg outfit this season, criticism has never been far away.
The Brazilian has endured the ignominy of missing three consecutive penalties in recent games, to the ire of fans and commentators alike. It would be harsh to castigate a player solely for failing from 12 yards but it is his attitude that has aroused indignation and cast doubt over his commitment to the club.
Against Ural on October 26 Hulk seized the ball after his surging run earned a spot-kick. The striker dusted himself off, confidently stepped up ... and promptly sent the ball wide. Zenit ultimately won 2-1 but it was a precursor to more damaging failings.
HULK'S CAREER STATS





A week and a half later, Hulk took the responsibility for a second-half penalty in Zenit's vital Champions League encounter with Porto. A win would have given the hosts a four-point cushion over the
Dragoes
in Group G but the Brazilian's tame effort was easily saved by Helton and the sides drew 1-1.
By now, even his Zenit team-mates were expressing frustration.
"Hulk took all the set pieces in the match," Andrei Arshavin complained to
Sportmazta
after the game.
"He took the free kicks, the corners ... For the second time in a row he's missed a penalty. Maybe something will change now."
That outburst is hardly indicative of team unity and didn't even have the desired effect. Four days later Hulk once again insisted on taking a penalty, pushing away Arshavin and Aleksandr Kerzhakov to do so, with his side 1-0 up against Spartak Moscow. A woeful effort ensued as the Brazilian scuffed his shot: Zenit lost 4-2.
In the wake of these incidents Hulk has been accused of showing an egotistical self-indulgence. Certainly, many Russian commentators have been scathing in their assessment of the striker's arrogance, suggesting he is only interested in personal glory to the detriment of his team. Or perhaps he is simply attempting to put himself on view for any suitors that might be watching.
Zenit would be foolish to discard Hulk if he wanted to stay. Much of the criticism is borne of frustration at the club's recent form (now without a win in five in all competitions) and though Hulk has made mistakes, he has equally made decisive contributions. It is telling that in all three of the games mentioned above he either scored or assisted, his thumping free kick against Spartak particularly brilliant.
However, rumours have abounded that a January transfer is likely with the striker himself admitting that he would like to reunite with his old Porto boss, Andre Villas-Boas. The Brazilian is now the most prominent footballer in Russia and, after the departures of Willian and Samuel Eto'o, is also the highest paid with a contract worth €5m a year. With a World Cup fast approaching though, all Zenit's wealth may not be enough to persuade him to stay.
Hulk has featured regularly in the Brazil set-up but has not been without his critics. Leaving Brazil at 18 to sign for Japanese outfit Kawasaki Frontale, he has always lacked the visibility and support in his homeland.
"I left the country at a young age and for that reason people don't know me," Hulk said during the Confederations Cup this summer.
"It's normal to criticise people you are not familiar with. I hope that by the end of the tournament my image is going to be a lot better."
It is debatable whether he achieved this but it does prompt a question: is the Russian Premier League really the arena for him to champion his ability? Surely only a move away, be that to Brazil or a big European side, would guarantee a spot in the national squad. In that context, stories linking him with Tottenham, Chelsea and, more recently, Palmeiras make absolute sense.
Zenit's Champions League encounter with Atletico Madrid on Tuesday is pivotal. The Russians are second in the Group G standings, a single point ahead of Porto, so their progress may well depend upon a result against the high-flying Spaniards, who are already through as group winners.
However, the game may have significance for Hulk too - shine against Diego Simeone's men as the world watches and he may just earn himself a transfer and, critically, ensure his place on the greatest stage of all: next summer's World Cup.