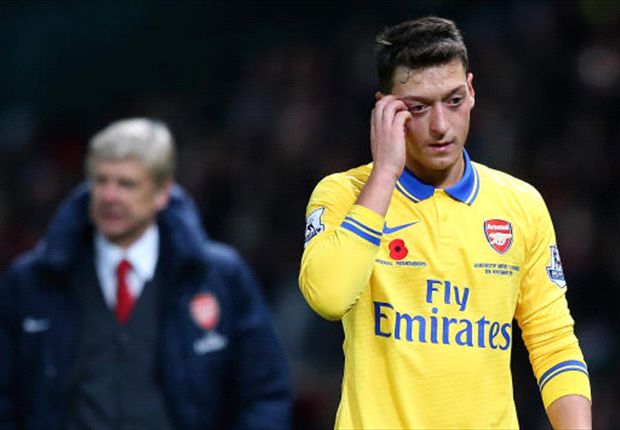 Nearly three months on and it still reads like something out of a computer game:
Arsenal
have bought
Mesut Ozil
for €47 million.
Rarely has a single signing been greeted with such euphoria and changed the mood of a club quite so dramatically. The poisonous atmosphere which engulfed the Emirates Stadium following the opening day defeat against Aston Villa has long since dissipated.
MAKING A MES OF IT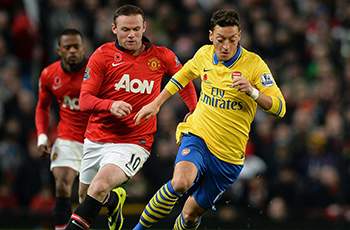 OZIL RATING VS MAN UTD



Sluggish and off-the-pace. Struggled to get on the ball and, when he did, failed to use it with his usual precision.
Sunny optimism has replaced sniping in the stands, while on the pitch Arsenal are displaying, if not the confident swagger that was once the hallmark of Arsene Wenger's great sides, a purposefulness, a conviction and clarity.
A club that has seen its most iconic players of recent times cherry-picked by the playground bullies has understandably been crying out for a totemic figure, a statement signing, a poster boy on which hopes and dreams could be pinned. Ozil was anointed from the moment he put pen to paper.
The novelty of being able to call upon one of the world's most accomplished playmakers is yet to wear off. For players and fans alike the honeymoon period shows few signs of ending – only last week Santi Cazorla, a member of the all-conquering Spain national team, admitted he felt "like a kid" when his new team-mate joined and described Ozil as a "gift".
Aside from the galvanising effect the Germany international has had on his new colleagues – particularly the British core upon which Wenger hopes to build the club's future around – Ozil has scored a respectable three times and has five assists in the bank.
But, as Arsenal's season reaches a critical - if not defining - juncture, all connected with the club are more than entitled to expect something extra from their record signing.
When Arsenal required a response at Old Trafford against Manchester United, Ozil was unable to inspire one. It was the same in the home defeat against Borussia Dortmund, where Cazorla looked the man most likely to engineer a winning goal before Arsenal were punished on the counter. In the return match, meanwhile, it was Aaron Ramsey's immaculate sense of timing and daring that provided the telling moment, rather than Ozi's feted left foot.
A lack of a proper pre-season programme, allied to a month's worth of international football, has been partly responsible for Ozil's failure to significantly build on his lightning quick start. It is as if the adrenaline that accompanied his last-minute transfer and the accompanying adulation have given way to the realisation that life in England and the Premier League is not as easy as it may have first appeared.
"We don't put any special responsibility on him [Ozil]," said Wenger ahead of Tuesday's Champions League meeting with Marseille. "Maybe he feels a bit more pressure to do that. But we just want the game to be played like we see it."
The pressure to dominate rather than decorate games may not be coming from his manager, but a quiet few weeks has been met with mild concern. What exactly have Arsenal got for their money, their fans can, at this stage, justifiably ask.
In short, he provides intelligence, stealth, and the sort of accuracy and economical use of the ball you would expect from any midfielder that commands a central part of any Wenger side.
Crucially, however, his ability to change a game with a single laser guided pass has been restricted by injuries to Arsenal's most direct forwards, Lukas Podolski and Theo Walcott.
Without Podolski's ball carrying ability and Walcott's searing pace Arsenal have been forced to find a different way – unthinkably for them they have scored 15 times in all competitions from crosses this season.
Olivier Giroud has warmed to his role as the focal point of the attack but his best qualities, brute strength and holding the ball up, are not naturally aligned with Ozil's.
The German has still been good enough to carve out several goals for his French foil but both have come from low centres, rather than the sort of eye-of-the-needle passes which became his forte at Real Madrid.
By virtue of having collected so many astute technicians Arsenal will always enjoy a stranglehold on possession, particularly against inferior opposition, but finding a way through a forest of defenders has proven a task even beyond Ozil's Matrix-esque vision.
Indeed, against Swansea and Crystal Palace, two teams who sat deep and invited pressure, it took the 'up and at 'em' attitude of teenager Serge Gnabry to force a breakthrough.
Podolski might still be two weeks away from full fitness and an opportunity to demonstrate that an understanding forged at international level can be replicated in north London, but Walcott's return as a substitute during Saturday's win over Southampton will provide Ozil with a much needed target to aim at.
The pair have played just 169 minutes of football together but, particularly during Ozil's debut at Sunderland back in September, there was enough evidence to suggest the pair will form a profitable partnership. Three times the England speedster was set free by his sharp-eyed colleague, only for his finishing to let him down on each occasion.
The duo were on the field together for only 11 minutes at the weekend, but with the game stretched Ozil was able to find an incisive ball that presented Walcott with the opportunity to play in Giroud with a first time pass that he would surely have accomplished, were this not his first game back after two months out with an abdominal injury.
Even so, it felt like a significant moment – Arsenal were again a threat on the break.
Ozil and Walcott are perhaps the two most contrasting members of Arsenal's second line. One is erratic and instinctive, often chaotic but genuinely potent. The other is meticulous, methodical and precise. Arsenal's opponents can only hope opposites fail to attract.