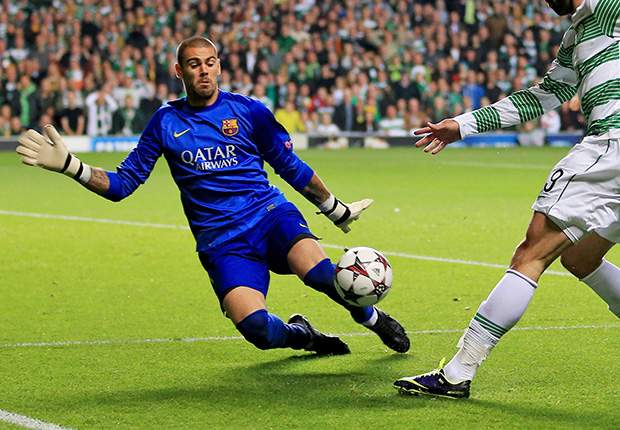 He's been there for Barcelona when they've needed him most. At key times, his contributions have been invaluable. He's in the best form of his career, and any club would be lucky to have him.
I'm of course referring to Victor Valdes. Lionel Messi? Not this year, I'm afraid.
Messi's superhuman adventures of the past few seasons make his 14 goals in 16 appearances appear somewhat unremarkable, despite being close to a goal-a-game. But given the embarrassment of riches that Barca hold in attack – Cesc inspired, Neymar bedding in, Alexis justifying his existence – Messi is just another impressive force in an attack full of them, rather than the indispensable element he has been previously.
The Liga champions have been dominant in so many matches that they would invariably emerge triumphant with or without him. Indeed, since the hamstring injury suffered in Almeria, they essentially have; the Argentine hasn't scored a league goal since September 28.
Browsing the supremacy of Barca's results you'd be forgiven for believing that Valdes could have taken up a hobby, perhaps knitting or yoga, while the 10 men in front of him passed the opposition into convulsions.
But that would mask the fact that their somewhat unsteady defensive unit has been exploited, and when it has, Valdes, a picture of concentration, has excelled.
Despite Barca's back four constantly changing – Alves, Pique, Puyol, Bartra, Mascherano, Song, Alba, Adriano, Montoya – the team have managed 10 clean sheets this season, with Valdes being forced to make, on average, 3.05 saves per match. But it's not the quantity, rather the quality and the significance of his timing that has proven so crucial.
Teams are creating chances, but Valdes has denied them, again, and again, and again. The Supercopa in August was arguably the only time that Barca have been outplayed this season, but Valdes produced stunning stops in either half to deny Arda Turan and David Villa, a clean sheet that ultimately won the trophy for his team.
Three days earlier, his point-blank save in the dying moments to repel a Seba Fernandez header earned the points in Malaga when Gerardo Martino's side had been far from impressive.
drive over the crossbar. Minutes later, Cesc had won the game.
In the Clasico, blocks from Sami Khedira and Cristiano Ronaldo set the stage for Neymar and Alexis to take the plaudits. The Catalan derby witnessed Barca's most inept performance of the year; had Valdes not raced from his line to keep out Victor Sanchez, the 1-0 scoreline might have been in Espanyol's favour.
And while Messi was limping off in Seville at the beginning of November, Valdes was diving full-length to make the most improbable of saves from a Juan Carlos downward header, drawing comparisons with Gordon Banks and Pele.
The examples are numerous, each one occurring at a pivotal time. Valdes has, until recently, been deemed a weak link in the eyes of some, never considered in the same breath as other modern greats such as Iker Casillas and Gianluigi Buffon. He appears determined to leave such a legacy, such a void, that even club legend Andoni Zubizarreta, who recently deemed him 'priceless', is left in the shade.
Xavi agrees. "Maybe Valdes is appreciated more now that he's said he's leaving."
What's clear is
that whoever is selected to replace him
will be acutely aware that Barca's goalkeeping history is dominated by Zubi and Valdes - but there are many, many more that failed to make the grade.