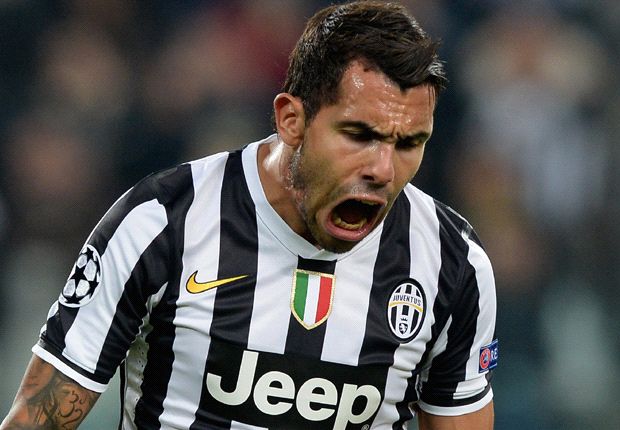 The striker has experienced a great start to life in Italy, but he remains without a goal on the continent since April 2009
In 2008, he was King of Europe, lifting aloft the Champions League trophy alongside his Manchester United team-mates, but five years on Carlos Tevez is desperate to make a mark on the European stage once again. As explosive as he has been in domestic football in the interim, the Argentine has struggled in front of goal in continental competition.
The Juventus striker has now failed to score in Europe since April 2009, spanning 55 months, 1395 playing minutes and a total of 19 games for three different clubs - a remarkable statistic for somebody who, in that time, has scored 83 goals in 155 domestic fixtures, winning two Premier League titles, an FA Cup, a Community Shield and a Supercoppa. Add in his phenomenal start to life in Serie A with the
Bianconeri
and the European scoring stat simply makes no sense.
'I BET HE'LL SCORE ON WEDNESDAY'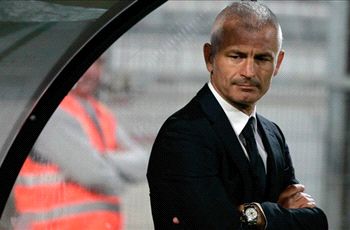 FABRIZIO RAVANELLI ON TEVEZ
"It is only a coincidence that he has not had the personal success to match his hard work in Europe. Things have changed at Juve. He is scoring regularly and is giving a great amount to the Turin outfit. I am ready to bet that he will break his duck in the game against Copenhagen on Wednesday night. Tevez is certainly not a 30-goal-a-season player, but his play, his physicality, the pressure he creates and his selflessness all elevate him beyond other strikers. He is having a vintage season so far.
"Carlos can play as a target man too - he certainly has the characteristics - but he is great at making a link between the midfield and the attack. He can fit into multiple roles with unrivalled effectiveness. He was a great purchase for the Bianconeri in that he knows how to marry the highest quality with endless quantity, as Conte requires of his men. He will be back celebrating a goal in the Champions League again soon - I have no doubt about it."
Fabrizio Ravanelli | Juventus 1992-96

Obviously, Tevez has had issues in that time, most notably his bust-up with Roberto Mancini after his then-Manchester City boss asked him to come on as a substitute at Bayern Munich. That altercation effectively ruled him out of Champions League action for a year, but even taking that into account, it is extraordinary that the 29-year-old has not netted on the road in such a long time.
The immediate problem is that Juventus have been severely lacking in the Champions League this term. With no victories to their name after four matches in Group B, they remain in a good position to qualify for the last 16 more by luck than judgment. But while Fabio Quagliarella and Fernando Llorente have netted twice each during the group stage despite otherwise indifferent starts, Tevez's European record reflects his general form in front of goal for the last four-and-a-half years. The Argentine has netted seven goals at a rate of one every 147 minutes in Serie A, but just cannot get going in the Champions League.
Former Juventus striker Fabrizio Ravanelli told
Goal
he has full confidence that Tevez's fortunes will change very soon, even saying he is "willing to bet that he will break his duck on Wednesday," and it is clear to see why the 1996 Champions League winner has such confidence. This week, the Old Lady come face-to-face with group minnows Copenhagen, and while the Danes will be buoyed by their victory over Galatasaray last time out,
Juventini
have every right to expect this to be the most straight-forward of their side's six group fixtures.
The 29-year-old would appear to be simply too good a finisher and in too rich a streak of form for this statistical anomaly to stretch any further, but if he continues to draw blanks in Europe then Juventus may well fall short of the desired mark in the competition once more. After last season's quarter-final defeat to Bayern the club will be looking for at least the same again this term, but a continued struggle in front of goal for Tevez can only compromise that.
For, while Juve have depth in their strikeforce in terms of numbers, they do not have a second player with Tevez's attitude, workrate and ability just off the front man. Sebastian Giovinco, Mirko Vucinic and Quagliarella are all considered alternatives up front, but only in the spot occupied by Llorente and not that of Tevez. The favoured forward line is very much 'Tevez plus one' and so it should be, based on what has been seen from the ex-Corinthians man on the pitch this term.
However, the goalless streak can only go on for so long. For both Tevez's and Juventus' sakes, the sooner he is back scoring in Europe, the better.