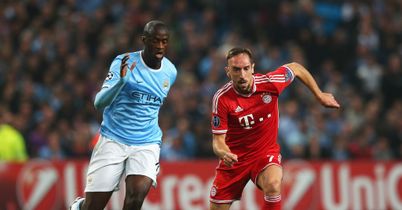 Graeme Souness believes Chelsea will win their Champions League group - and reckons Manchester City could make it as far as the semi-finals.
After Arsenal and Liverpool began their 2014-15 Champions League campaigns on Tuesday night, Manchester City prepare to get theirs underway with tough games against Bayern Munich and Schalke respectively.
Sky Sports pundit Graeme Souness has been giving his verdicts on the sides ahead of the games...
Bayern Munich v Manchester City, Sportmasta
Are Manchester City more concerned with the Champions League than the Premier League this year? I don't think so.
Manuel Pellegrini would take either of those trophies right now and you can't cherry-pick and say you would focus on the European Cup over the league or vice versa. These are big clubs that carry big squads and their supporters expect them to make an impression in both competitions.
There's not a great deal of difference between the first choice and second choice players in lots of positions, so that will mean they will be stronger in the domestic competition. I don't see that issue as a real handicap to them.
However, I don'' know why they have failed to get beyond the last 16 in Europe because they certainly have the players to do better. It's a mystery to me – and it will be to the coach as well.
I would expect Manchester City to finish second in their group, behind Bayern Munich, but I can still see them making the semi-finals if the draw is kind to them.
Roma are also in the group, but Italian football is nowhere near as strong as it used to be and I think City will finish second – although I wouldn't rule out them winning it.
Manchester City went to Munich last season and got a result and so they can go there with some confidence. I don't rule anything out.
But with Robert Lewandowski now in their ranks, you would have to say that Bayern Munich are stronger this year. Toni Kroos is a loss to them and they need Bastian Schweinsteiger to stay fit.
But there's no doubt about it, even if you take Kroos out of a squad, putting Lewandowski into it makes them stronger. Of all the strikers that changed clubs, he was the man to get this summer.
I think Bayern can go on and win the Champions League again. You can give them the Bundesliga now, but Pep Guardiola has to get them to the final in Berlin next year.
I would fancy Bayern Munich to win on Wednesday night, but would I be surprised if Manchester City got a result? No I wouldn't.
Chelsea v Schalke, Sportmasta
People ask me if Jose Mourinho has changed his style this season and I would say no.
If Chelsea draw Barcelona, Real Madrid or Bayern Munich then he won't be frightened to go there and have a plan B – and he has a better plan B than anyone else.
He's not worried about what people say afterwards if he goes away from home and produces a dull, drab 0-0 draw. He's not concerned and it doesn't bother him.
They have conceded five goals in their last two league games, but I still think it will be either Chelsea or Manchester City that has the best defensive record come the end of the season.
Chelsea will win what looks like a very easy group and the beauty for Jose Mourinho is that he won't always have to field his strongest team in Europe.
In the later stages of the group he will have the luxury of being able to leave out some of his players, which means he can have one eye on the Premier League. That is an enormous advantage.
I don't think he would consider leaving out Diego Costa for the Schalke game because they are the main rivals to finish first in the group and Chelsea will want to damage them, especially at home. As long as Costa is not carrying any sort of injury, I don't see him being rested.
Chelsea will win this game. I won't say it will be comfortable, but they will win this game and their group.