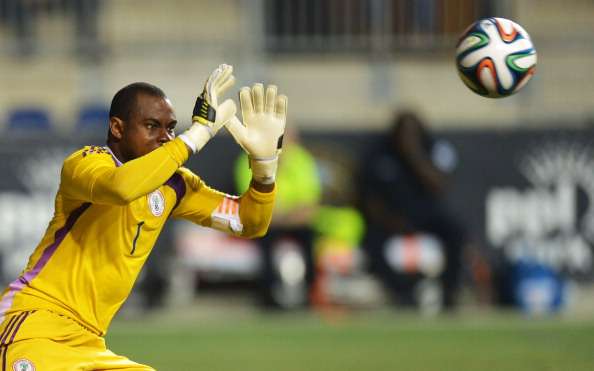 Former Nigeria goalkeeper, Joe Erico has admitted that the absence of Vincent Enyeama in Saturday's African Cup of Nations qualifier against Congo is an opportunity for other Super Eagles goalkeeper to prove their worth.
Enyeama has been granted leave for the two opening matches of the 2015 Afcon qualifiers on September 6 and 10 due to family reasons.
Erico popularly called
Jogo Bonito
during his active footballing days pointed out other the absence of the Lille custodian will only help other goalkeepers in the national team justify their invitation.
"Enyeama's absence is never a disadvantage. The other goalkeepers should come on board because they have been working together along," Erico told
Sportmasta.
"I don't see anything wrong in his absence because I think it should be an opportunity for other goalkeepers to show what they can do.
"And as for the game on Saturday, all the Eagles need to do is to ensure maximum victory but mind you, they will have to play very well because a win at home is very vital baring in mind that the Congolese are not pushovers.
He also said Stephen Keshi's decision to lead Nigeria against Congo and South Africa despite not having his contract issue sorted out will have no negative implication on the performance of the team on Saturday.
"Keshi is still doing his job. His future as Nigeria is not an issue here because he is serving his fatherland.
"Against Congo, I don't see that causing any distraction because I'm very optimistic that at the end of the day, things will be sorted out in his favour," he concluded.