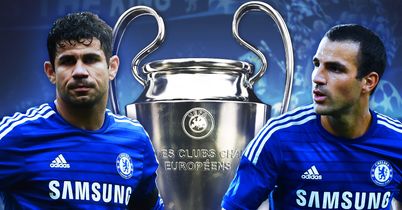 Cesc Fabregas and Diego Costa are fast becoming the Premier League's most productive partnership but must now do it in Europe, says Adam Bate.
History has a way of filtering the noise and distilling lengthy stories down to their essence.
The narrative of the 2012-13 Premier League season, for example, will always be that Manchester United bought Robin van Persie from Arsenal and promptly won the title.
In a sense, the story
was
that simple. Van Persie featured in all 38 matches, scoring 26 goals to make the difference for Sir Alex Ferguson's side in the Scotsman's final season in charge. His strikes alone accounted for 27 of United's points that year.
Just four games into the 2014-15 campaign and already the buzz about Chelsea's summer signings is threatening to become the story. After finishing just four points behind Manchester City last year, Chelsea went out and bought Diego Costa and Cesc Fabregas. The impact has been stunning.
"It's true they're the best players," said Eden Hazard, the player who shouldered much of the burden at Stamford Bridge last term. "Costa can score every game and Cesc is one of the best midfielders in the world."
It feels like Hazard ought to be accused of overstating. And then you consider Costa's start. The striker arrived with a considerable reputation but could hardly have expected to prove his worth this emphatically so quickly. Seven goals in four games.
'Not normal'
It's the best ever start to a Premier League career in terms of goals scored and even Jose Mourinho seems shocked.
"Seven goals in four matches surprises me, because it's something that is not normal," he said at the weekend. "But he's comfortable in the team.
"The team was built in a way where we were waiting for a certain type of striker. I think now everybody knows Chelsea did the right thing waiting for him. Chelsea did well by waiting and waiting for the right one."
The contribution of Fabregas has been no less remarkable. Creativity from deep was another quality Chelsea lacked last season but the Spaniard has addressed that issue in style. He began with two assists on debut at Burnley and has continued to make things tick since then.
While Costa has work to do in chasing the 31 goals Luis Suarez managed for Liverpool last year, Fabregas seems certain to break records when it comes to assists.
Steven Gerrard ranked top with 13 of them in 2013-14. Fabregas has already provided six for his Chelsea team-mates.
"To play with Fabregas is the dream of every striker," Mourinho told Chelsea TV earlier this month. "The guy sees the movement, sees the pass, is not selfish, makes always the right choice."
That link-up with Costa is improving all the time. The provider and the finisher.
Fabregas has directly assisted three of his international team-mate's goals, including two in Saturday's 4-2 victory over Swansea. It's the sort of pairing that could prove too much for the Premier League.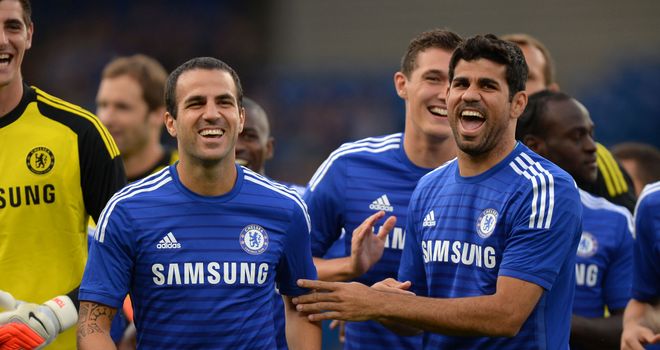 On Wednesday, they will hope to repeat the trick as Chelsea begin their Champions League campaign by hosting Schalke at Stamford Bridge. Mourinho might have openly targeted the domestic crown this season but European glory is seldom far from his thoughts.
Just this week he admitted to still having sleepless nights over a Cristiano Ronaldo penalty miss in the competition versus Bayern Munich three years ago. As for the 2005 'ghost goal' exit to Liverpool, mention Luis Garcia in his general vicinity and expect trouble.
Mourinho is a manager who defines himself by his Champions League triumphs and will likely feel another is overdue after four semi-final exits in a row. He's not alone. Mourinho's high-profile summer acquisitions also have unfinished business in the competition.
Costa scored eight goals en route to the final with Atletico Madrid last season only to limp off in the early stages of the game in Lisbon. "It was my responsibility and obviously I made a mistake because I had to switch him as early as I did," said coach Diego Simeone.
Costa still came within moments of claiming a winners' medal only for a late Sergio Ramos header to crush Atleti dreams and deny the forward the perfect end to his stay at the club.
Unlucky
Fabregas came almost as close to glory with Arsenal in 2006 and could count himself particularly unlucky given the chronology of events. The Gunners were leading Barcelona 1-0 with a quarter of an hour remaining when Arsene Wenger substituted him in favour of Mathieu Flamini.
Within minutes, Samuel Eto'o equalised before Juliano Belletti netted the winner soon after. Fabregas joined the reigning champions in 2011 but proved unable to do better than the last four in each of his seasons in Catalonia.
Together, Mourinho, Costa and Fabregas will attempt to shrug off these recent disappointments, and in a group that also includes Sporting and Maribor there will certainly be expectations that they can prolong this season's Champions League adventure into the spring.
Indeed, with Chelsea's first four European fixtures immediately preceding Premier League games against Manchester City, Arsenal, Manchester United and Liverpool, there might even be a temptation to rotate the squad for the Champions League ties.
Whatever Mourinho decides, there seems little doubt who the Chelsea boss will be building his team's hopes and dreams around this season.
Diego Costa and Cesc Fabregas - just four games in and already making a persuasive case as the most productive partnership in English football.