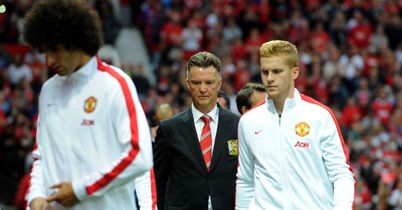 Manchester United boss Louis van Gaal insists he has no regrets about taking the job at Old Trafford this summer.
The 63-year-old looked certain to take charge at Tottenham before the call came from United.
Van Gaal has endured a miserable start at United as his team have picked up just two points from their opening three league games and were thrashed 4-0 in the Capital One Cup by League One MK Dons.
But the former Bayern Munich coach claims he expected the task at Old Trafford to be a tough one when he accepted the post.
And Van Gaal is adamant he was never going to refuse the United job because of the club's prestige.
"No, I don't regret taking this job," he told the Daily Mirror. "Yes, it is a massive job I have taken on at Manchester United. I realise that.
"And the situation is not worse than I thought - I knew what I would find on my plate.
"I could have opted for an easier job. If I had gone to Tottenham, the job would not have been as enormous as here at United.
"I could have easily gone to Spurs. But I chose the biggest challenge of all the jobs in football. And I really wanted to join the number one club in the country, not Tottenham.
"Financially, Tottenham was kind of as attractive as Man United. But, in my eyes, Man United is still the number one club in England, Tottenham really is not."
Van Gaal will be hoping he is given more time than predecessor David Moyes, who was dismissed just 11 months after replacing Sir Alex Ferguson as United failed to qualify for the Champions League last season.
The Dutchman has been impressed with the backing of the United board, as his poor start at Munich led to a crisis meeting with Bayern's president Uli Hoeness.
Van Gaal said: "My start at Bayern was just as bad as my start with Manchester United. But the big difference was that at Bayern I had already been called in for a major showdown with Uli Hoeness, who wanted an explanation.
"And what have United done? They have just bought more players for me. They kept buying players.
"They are supporting me. That is a sign of trust in the manager. I feel that. I feel their trust and belief in my ability.
"It is not just a matter of believing in my football philosophy, but in me as a person too.
"Do I get worried when I look at the league table now? Come off it. That means nothing. We have only just started.
"And the facts are that I have never let any clubs down. I have won things. I have given those clubs success. And that is exactly what I will do here at United."