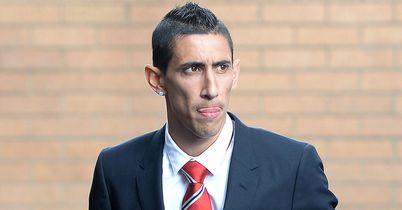 Paris St Germain president Nasser Al-Khelaifi believes Angel di Maria wanted to move to his club - and not Manchester United - from Real Madrid in the summer transfer window.
The Argentina international sealed a move to Old Trafford for a record British fee of almost £60m last week.
Al-Khelaifi reckons the only reason the 26-year-old did not move to the Parc des Princes was because PSG could not agree a fee with Real Madrid president Florentino Perez.
"For two or three weeks I discussed this issue with my friend Florentino Perez, the president of Real Madrid," Al-Khelaifi said.
"We met twice, we made an offer, but we did not agree on the price. For me it was too expensive. It has nothing to do with Financial Fair Play. The player wanted to come to Paris, but this was not possible."
The French side have invested hugely in players over the past couple of years, signing the likes of Zlatan Ibrahimovic and David Luiz.
Al-Khelaifi claimed Financial Fair Play (FFP) was not a fair rule and said his club would meet with UEFA to urge them to reconsider it.
"We want to respect the rules of UEFA," he said. "But we must discuss it again in October with them to try to change the rules.
"This is very important because Financial Fair Play is not fair. It is sometimes difficult to understand, but in the end, the big clubs are big clubs and small clubs remain small. It not only represents the interests of PSG. If new investors can not invest in football, they will invest in Formula One."
PSG, along with Premier League champions Manchester City, were handed a heavy fine in May for breaching FFP regulations.