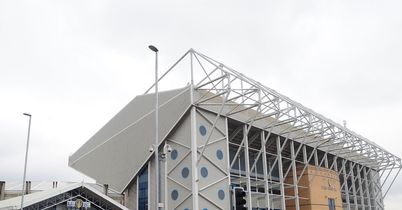 Gary Rowett explains why some managers may be put off the Leeds job and reveals why he has given up watching YouTube clips of foreign players.
Burton Albion followed up their Capital One Cup win over QPR with a 2-1 victory at Mansfield on Saturday that took them top of the
Sky Bet League Two table
.
In the third edition of his exclusive new weekly column for TEAMtalk, as part of our
Football League Focus
every Thursday, Gary reveals he was able to enjoy a remarkably stress-free transfer deadline day on Monday - and also gives his thoughts on the situation at Leeds United, who are looking for a new manager after sacking David Hockaday.
Van Gaal needs time:
Last week, Gary explained why Louis van Gaal needs time at Manchester United and why 3-5-2 can work well.
Transfers explained:
In his first column, after a transfer row led to the exit of Tony Pulis, Gary discussed how business is done at League Two level.
Life's a beach
The interesting thing about this last week has been the tranquillity of it.
Normally you're scratching around like crazy on the last day of the window but our approach was not to panic or feel like we had to bring someone in because that's what the fans want on deadline day, everyone wants to see two or three new signings.
But after planning all summer, to feel like you have to do lots of business on the last day is daft.
I can understand some of the top clubs, where the market is slightly different, waiting until that last day when better deals can be struck depending on other clubs getting players at the last minute which dictates which players are available.
But transfer deadline days don't have as much of an effect in the lower leagues. You look at how many permanent deals were done and there weren't that many at our level.
I actually spent transfer deadline day sat on a beach with Cornwall with my family. I decided to take a slightly different route to transfer deadline day!
If business needed to be done I had my phone, but fortunately for us it went to plan and was quite a relaxing day.
I've been in the position where you feel like you've got to get someone in or a couple of bodies in, and I'm not suggesting I always planned to escape on transfer deadline day, but I didn't feel the need to be in the office making 4,000 phone calls.
Loans important in League Two
The one bit of business we did do on the last day was making Stuart Beavon's loan deal permanent but that was something we'd worked on previously and was by no means a last-minute deal.
It was an excellent move by us, though, because it meant that not only have we secured a fantastic player on a long-term basis but also that we've freed up an emergency loan place for when the window opens in a week's time.
We've only got two players on loan at the club at the moment, and with our squad as it is we just felt it was right to let deadline day pass and wait for a week, for when we already have our targets.
There's always a bit of a snowball effect on the back of the players brought in by the bigger clubs but also the Financial Fair Play rules and Premier League 25-man squads.
All of that means that more players of better quality get pushed down the divisions. There's been a big improvement in the quality of football at the top end of League Two and bottom end of League One as a result.
We've certainly targeted players, League One footballers and Championship footballers, that have become surplus to requirements and are looking for a new challenge further down.
We've tried to do that without compromising our key indicators for players - our preference is for young players that have played at a higher level and have got that hunger and desire to get back there.
There are a lot of players coming down from the top level but it's about finding the right ones that we feel are not going to view playing in League Two as a come down.
It's very easy to fill your side with lots of good players but the key word I always use is synergy. We always look for that little bit of synergy between the players, their characters, and what they all want to achieve.
If you look at the likes of Adam McGurk and Lucas Atkins, they are both 25 and have played in League One but come down to League Two because we've sold them the ambition of the club.
If the character of the player is right and you do enough homework - and those two are classic cases - you know they will give their heart and soul to whichever club they play for.
Foreign market a minefield
Even though we had a quiet end to the window, I was offered players left, right and centre, but I've started to limit the trawling through YouTube watching clips of foreign players you've got to work out.
There are that many foreign players available, that many players keen to come over to this country, that sometimes if you're not careful you end up watching a whole day's worth of clips of empty stadiums.
If you're going to sit through hours of footage a week on the basis that you might find a good player every two years, does that become a waste of time?
Also, these clips can make any player look good. If you watch me in training now at 40 years old I'm sure you might find three or four clips that make me slightly enticing to someone.
I'd probably be stood still and without the ball but I'm sure I could look good enough for someone to take me on trial.
The other problem is that you have no idea about their character unless you get them over, and nine times out of 10 you've got to share some of the cost of getting them over.
Then, if you want to sign them, even if you can get them for minimal wage, you've then got to find accommodation. We haven't got a club house where we can just put people in so you have to consider either renting somewhere for the player or putting them in a hotel, which is obviously very costly.
So it's becoming more and more difficult to take a player from the foreign market that you don't know anything about and turning that into a professional contract.
It is very easy to be bogged down by calls for trials but at this level you have to focus on your immediate market, which is Under-21 games that are fairly local, and players you already know about.
Big job ahead for next Leeds boss
I've spoken to quite a lot of people who've worked with Dave Hockaday or know him, and they've all said he's a very good coach, they've all extolled his virtues as a coach.
Still, I'm sure most people were slightly surprised that he got the Leeds job in the summer because you assume they will go for a high-profile manager that has managed at a high level, like most Championship clubs do.
Leeds is a big club, they want success there and they want it quite quickly, so I wasn't surprised that Dave lost his job after what I had read in the press.
But I'm sure he would have understood the situation at Leeds when he was given the opportunity to manage the club, and I'm sure he doesn't regret having a go.
It's a difficult scenario for anyone going into the job next, and as a manager you have to understand the environment you're walking into.
It's a very continental approach to running a football club, but there is no right or wrong way. More and more clubs are going down the same route.
If you're joining a club that has got a director of football, and transfers are not your remit, then you have to accept that and you have to coach the team as well as you can.
But I think the vast proportion of managers, and I would be one of them, would certainly prefer to have an opinion on transfers. You would like to push your philosophy and the way that your team plays otherwise you're just coaching a team.
For some people that's fine and something they would enjoy doing without the pressures of actually having to be the manager in some ways.
The problem is that you're going to be judged on the success of the team, and it might not be all down to you.