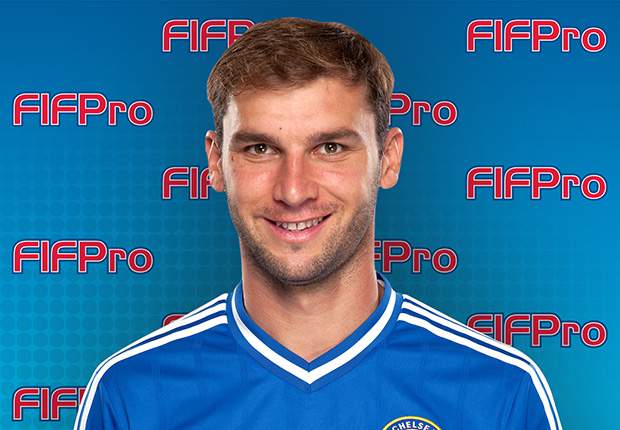 Chelsea
centre-back
Branislav Ivanovic
has hailed the Blues' defence as one of the best in world football.
The Serb is on the shortlist, along with team-mates Ashley Cole, David Luiz and 17 other defenders, to win a place in the FIFPro World XI, which recognises the team of the year in football and will be announced on January 13.
And Ivanovic believes that the current crop of defenders that Blues manager Jose Mourinho has at his disposal are up there with the finest in the world game.
"I always remember the days when I arrived here and I know how good defensively my team-mates were in that moment and they are still very strong," he said.
"I think we have one of the best defensive lines in the world now with John Terry, Ashley Cole, Gary Cahill, David Luiz and Cesar Azpilicueta. I like to talk about the guys who I play with because I get to see how good they are every day.
"Our defence is one of the reasons why we have won trophies and so we are happy about this because we all play as a team and all of us make Chelsea a hard team to score against, not just the defenders."
Terry was the last Chelsea defender to appear in the FIFPro World XI back in 2009, although Ivanovic insists that he is just happy to be named on the shortlist.
"Personally I am so happy and glad to be included," he added. "Of course, when you win trophies you'd expect as many Chelsea players as possible to be included because we all deserve it and we won as a team.
"I know all our players are good enough and if you ask my opinion, I would put all of our team in it!"
Ivanovic also discussed the Premier League, adding his belief that it is the top league in world football and that he expects a close-fought title race this season that could be won by four or five teams.
"The Premier League is the best league in the world and it is so competitive because of the great players and because of the fans in the stadium," he continued.
"Football here means something different to the rest of the world and the atmosphere in the stadium of every team is always special. Four or five teams can win the title and it is very exciting.
"I think both Manchester clubs, Arsenal and Liverpool are all doing well this year so you have a lot of good teams but we have to just focus on ourselves. It's going to be very difficult and it will be an interesting season."
On his winning goal in last season's Europa League final triumph over Benfica, Ivanovic concluded: "That's one of the best moments of my career.
"It is a dream of every player to score the winning goal in a European final so I'm very proud but I don't like to pay much attention to it because it is the past and it is history now. One day I will have time to look back and enjoy it."
For more information on the FIFPro XI, click here for the exclusive FIFPro Facebook application and prediction game