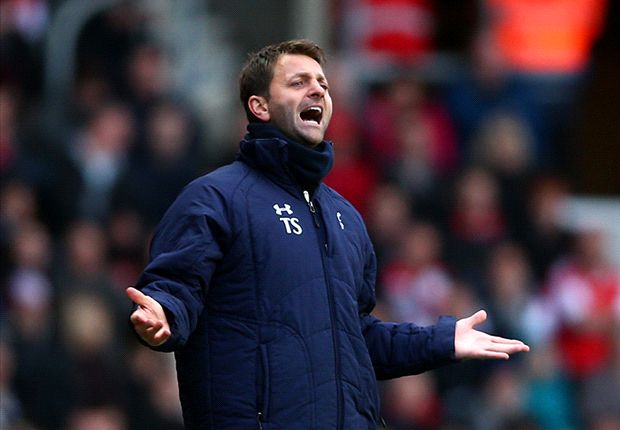 New
Tottenham
head coach
Tim Sherwood
has refuted suggestions of a falling-out with
England
manager
Roy Hodgson
.
The 66-year-old claimed Sherwood was a "major factor" in his dismissal from Blackburn in 1998, suggesting that his "discontent" with a stalled transfer – coincidentally, to Spurs – poisoned the Rovers dressing room.
But Sherwood has played down talk of any lingering animosity with Hodgson and insists he has already been in contact with the Three Lions manager since taking the reigns at White Hart Lane.
"What problem?" Sherwood told reporters when asked about his allegedly strained relationship with Hodgson.
"Brian Kidd [was the one who] sold me [to Tottenham]. I don't have a problem with Roy, no problem at all. I spoke to him the other day."
Sherwood, who had previously been technical coordinator at the north London club, praised the Tottenham board for handing him an 18-month deal and is keen to repay the faith shown in him.
"I congratulate them for it," added the former Spurs midfielder.
"The length of the contract wasn't a deal breaker, it was the offer that came and I was pleased to accept it.
"I am not sure how many applicants they got but I'm sure it wasn't just a couple, there would have been quite a few I would suggest.
"Those managers would be available now. They are bigger names and more experienced names than Tim Sherwood in management. The board made their decision and I am grateful for that.
"I was as honest as I can be [with chairman Daniel Levy]. I never went in there and thought, 'What does he want to hear as I'm going to tell him it?'
"It was the fact that this is the way I see the game going forward. If he likes it he will give me the job and if he doesn't then he won't."