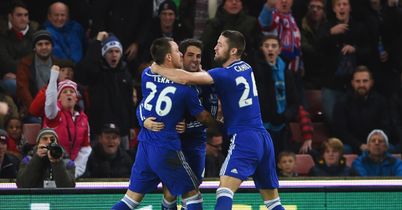 Mark Holmes faces Paul Merson in the Boxing Day prediction challenge, with both men backing Chelsea, Man United, Man City and Arsenal.
This season, our man Mark will take on someone from the world of music or celebrity every Friday to predict the outcome of the 10 Premier League games that weekend.
Every correct result is worth one point, while every correct scoreline is worth three points. We will keep a tally throughout the season to see how Mark fares against all of our guests.
After a 14-10 defeat to Paul Merson in week 17, Mark now has 131 points for the season, 35 more than the guests' 96.
Chelsea v West Ham
Mark:
Chelsea barely got out of second gear to win at Stoke on Monday and, although West Ham are playing very well at the moment, I can't see anything other than another routine victory for Jose Mourinho's men.
2-0
Paul:
West Ham always seem to go to Chelsea and sit 10 men behind the ball but this time they are in form, and if they go there to have a free swing and have a go, you never know.
But I think they'll set up the way they normally do when they go the Stamford Bridge, and there's no way Chelsea won't break them down before the end.
2-0
Burnley v Liverpool
Mark:
Liverpool have lost both of their previous games on Boxing Day under Brendan Rodgers, and they certainly won't find it easy at Turf Moor this year.
They were excellent against Arsenal but ultimately the same old problems cost them - poor finishing at one end, and weak defending at the other. For that reason, I think they'll have to make do with another draw.
1-1
Paul:
Liverpool should have far too much for Burnley. It will certainly be a hard game at Turf Moor but their performance last Sunday should give them plenty of encouragement going into this one. They were much better than Arsenal and that should fill them with huge confidence. I expect them to get back to winning ways at Burnley.
1-3
Crystal Palace v Southampton
Mark:
I said before the last round of fixtures that Southampton would soon get back to winning ways; they're a very good side. However, Palace away on Boxing Day is hardly a fixture to relish.
1-1
Paul:
Southampton will feel much better after the Everton result but this will be a tough game for them at Selhurst Park.
Crystal Palace are a side that always seem to play well but never win! They never seem to put in a bad display but can't get over the line. I worry about teams like that, so I'm going for a 1-1 draw
1-1
Everton v Stoke City
Mark:
Everton have produced more bad performances than good ones in the Premier League this season but, as a Stoke fan, I'm only too aware of our incredible knack of giving a helping hand to the teams most in need of one.
In front of a lively home crowd, the Blues should have just enough to see off a Stoke team that gives away far too many soft goals.
2-0
Paul:
Everton are really struggling at the moment. That was the shocker of all shockers against Southampton and it seems teams have worked out how to tackle them now.
As I've mentioned before, I don't like going against Stoke. You only had to watch them against Chelsea to see they play good football so they will be alright during the second half of the season.
1-1
Leicester City v Tottenham
Mark:
Leicester are bound to get a positive result sometime soon but, even at home, it's hard to back them at the moment, particularly against a Spurs side that is quietly putting together a decent run of form.
0-2
Paul:
If this was live on Super Sunday I probably would have gone for a last-minute 2-1 win for Spurs, but it's not.
Leicester may be struggling at the moment but it's never easy to play them on their own patch so I'm going for all square in this one.
1-1
Manchester United v Newcastle United
Mark:
If ever you needed proof of the value of confidence in football, Newcastle are providing it. Currently they've got none of it, and it's hard to imagine them even landing a punch at Old Trafford.
3-0
Paul:
United had a bad result against the 10 men of Villa. I'm not totally convinced by them yet to be honest but, then again, Newcastle are not up to much either.
They pulled up trees to five on the bounce but they have come unstuck again now. United will be too strong.
3-0
Sunderland v Hull City
Mark:
At home, on Boxing Day, on the back of a win at Newcastle, up against a Hull side desperately low in confidence, there's surely no way Sunderland won't take all three points. Is there?
1-0
Paul:
I've watched Hull a few times and it's difficult to see where they're going to win a game. I like Hull and think Steve Bruce is a good manager but they were really disappointing against Swansea and are very low on confidence.
Sunderland will be bouncing after their derby win and I expect them to get another three points against Hull.
1-0
Swansea City v Aston Villa
Mark:
In eighth and 12th, these two sides are roughly where I expect them to be come the end of the season. Villa are a decent Premier League team on their day, but Swansea are definitely a class above. At home, this should be routine.
2-0
Paul:
Swansea at home are a very good team. They've proved that in recent weeks but have been a bit unlucky at times and should have had more reward for the performance against Tottenham.
In truth, they battered Spurs that day. Any sort of repeat and they will have too much quality for Villa, even though they'll have Gabriel Abonglahor available after his red card was rescinded.
2-1
West Brom v Manchester City
Mark:
Although they surrended a two-goal lead to lose, West Brom's performance at QPR was actually very positive in many respects. However, they're up against the in-form team in the league and will have to play well above themselves to take anything.
1-3
Paul:
It was another good result for City against Palace. That's eight on the trot for them now and under the pressure they are to perform that's some going.
West Brom were 2-0 up against QPR but still couldn't hold on for a draw. I'm not holding out much hope for them against City to be honest.
0-2
Arsenal v QPR
Mark:
I've overestimated Arsenal (+13 points) more than any other team this season. They're a very good team but just drop too many points they shouldn't to seriously challenge Chelsea and Manchester City.
However, I can't see them dropping any here - QPR just haven't worked out how to compete away from home at this level.
3-0
Paul:
If I'm Harry, do I play my best team against Arsenal and maybe get something? Or do I rest a few and target the Crystal Palace game two days later?
A good manager like Harry work this out, and I'd be shocked if he had a full side out. I don't blame him one bit if he doesn't because QPR are not likely to get anything at Arsenal. Palace at home is 100 times bigger than Arsenal away.
4-0
This season Mark has been most overly optimistic about Arsenal, who have claimed some 13 points less than he has predicted, but has seriously underestimated the abilities of West Ham, who have won 10 points more than he has predicted.