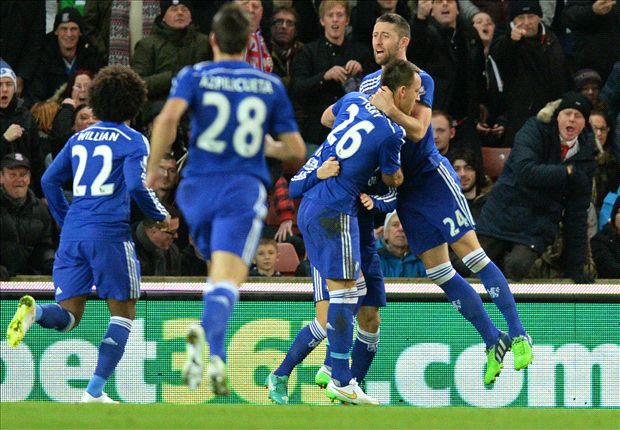 The Blues held their nerve to beat Stoke City at the Britannia Stadium and climb back above Manchester City in the table as they look to claim their first league title since 2010
Chelsea
will top the Premier League table on Christmas Day after their 2-0 win over
Stoke
at the Britannia Stadium ensured they reasserted their three-point lead over in-form
Manchester City
.
Four out of the last five sides who have been top on Christmas Day have gone on to win the title. Even more ominous for the chasing pack is Jose Mourinho's personal record. He has been top at Christmas seven times and his sides have gone on to finish as champions on each occasion. There are few better managers in world football at defending a lead.
Indeed, what a difference 12 months of Mourinho management makes. They lost this fixture 3-2 last December, a damaging result that saw them slip four points off the lead having played a game more than the leaders Arsenal. Only six who started that night made it into the first XI this time around and there's been a clear improvement. Where last season there were holes in key areas, this Chelsea side has a wonderful mix of power, skill, tactical awareness, experience and ingenuity. It's a formidable blend.
Nemanja Matic has been the star of their season so far, a solid, disciplined defensive midfielder who lacks nothing technically and provides a solid shield in front of Terry and Gary Cahill. Thibaut Courtois is the best goalkeeper in the Premier League who continues to redefine the ways in which a goalkeeper should command their area.
Cesc Fabregas is their creative hub, a man with 12 assists in the league already this season; the master of the slide-rule pass and the player every other top team must rue missing out on this summer. Eden Hazard remains one of most fearless attacking talents in world football, desperate every time he collects the ball to commit defenders and create an opportunity. And Diego Costa has given them a physical presence and cutting edge they so badly lacked when Fernando Torres and Demba Ba were leading the line during the last campaign.
Stoke simply had no answer to a side so obviously moulded in the image of their manager, a perennial winner who expects hard work and application from every player he sends out on to the pitch. Anyone who watches Willian, who effectively replaced Juan Mata last season, will see just the kind of demands Mourinho makes to be part of his first XI. Without exception they defend as a team, and, so far, have conceded less goals than any other side in the division.
Afterwards, Mourinho said beating Stoke meant more than just three points in their quest to win the title.
"It is a victory that means a bit more than three points, not just because it is difficult but also to win here you need more than just your quality," he said.
"The players were a team, they were together, they coped well with a difficult style. Our creative players were not afraid, our defensive players were very solid. Only with a great team performance is it possible to be successful against Stoke."
Mourinho was also full of praise for Terry, who led with distinction on a big night for Chelsea. "He is very dangerous in set-pieces. He is a very good player in the air so when he is on the pitch, there is always a threat," he said.
"More important than the goal is the way he is playing this season. When I came here last season, he was a bit in trouble, his career was a bit up and down and not playing regularly.
"In the last two years, he is playing every game and in the standard he was playing from 2004-07.
"I think he knows the way I trust him. I think he feels very confident, very happy and is playing very well."
Confidence seems to be the watchword around Stamford Bridge these days, and understandably so. Chelsea are almost halfway towards winning a title race they have dominated from the very start, and even the best efforts of Manchester City and Manuel Pellegrini might not be enough to thwart Mourinho and his men.