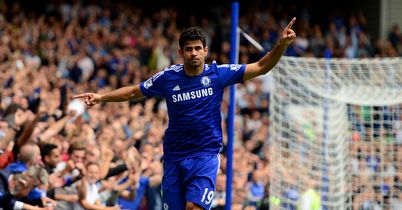 Chelsea and Manchester United have been the Premier League's most clinical sides in front of goal this term, with Burnley the most profligate.
Monday night was one of those occasions where a look at the basic stats from the match between Southampton and Manchester United would suggest somewhat of a smash and grab on the latter's part.
However, despite having just three shots at goal to their hosts 15 and indeed not performing anywhere near their best, the visitors were not the victims of a dominant Saints display.
The Monday night clash was the 36th time this season - from 150 Premier League games thus far - that the side to muster the fewer shots on target came out on top. When taking draws into account, over half of the Premier League matches this season (78) have seen the team to attempt fewer shots in a match come away with at least a point.
Aside from Chelsea, who lost for the first time in the current campaign at the weekend, it's been a season of surprises, where any team can cause an upset on their day. Superiority in terms of attempts at goal has not necessarily been a recipe for success.
Indeed, only three sides have fired off more shots than a Liverpool (216) outfit languishing in mid-table, and only five have attempted more than QPR (208).
Conversely, only three teams have mustered fewer attempts than Swansea (160), who have been floating around the European places all season.
Manchester United became the fifth side this season to win a game despite having had five or less shots in a game, with their tally of three at St. Mary's representing the lowest in a single Premier League match since May, when the Red Devils themselves restricted Hull to just two.
What all this suggests, of course, is that quality outweighs quantity once again, and in particular the ability of any one team's players to convert the chances that fall their way is of paramount importance.
WhoScored.com
look at the teams that have proven most and least clinical in front of goal in terms of both individual matches and over the course of the campaign thus far.
Unsurprisingly United's conversion rate of 66.7%, scoring twice from just three shots against Southampton, represents the best of any side in a single Premier League match this season.
Hull have come closest to matching that feat, netting twice from just 4 shots in a 2-2 draw at Arsenal, while Burnley (vs Stoke), Swansea (vs United) and Southampton (vs Newcastle) have all netted with 40% of their shots in any one match this season, each ending up with all three points on those occasions.
At the opposite end of the spectrum the likes of Stoke (27 shots vs Leicester), Chelsea (24 shots vs Sunderland) and West Ham (21 shots vs Villa) have all failed to register on the scoresheet from substantially more attempts at goal in a single game.
As far as chance conversion rates go, league standings tend to follow a pretty similar pattern. A Diego Costa-driven Chelsea side are top of the table, unsurprisingly having boasted the best figures in front of goal.
Not only are the Blues the top scorers in the league, but they are the most lethal when it comes to converting chances (13.4%), with only recent blips against Sunderland and Newcastle - cursed by a rare inability to find the back of the net having done so with just one of 50 shots across the two games - suggesting that anyone else in the division stands a chance.
Second-placed Manchester City have the fifth best conversion rate (11.9%), third placed United have the second best (12.4%), and fourth placed West Ham rank sixth (11.8%).
The real outliers are Everton, who have had a dismal start to their league campaign, sitting 12th despite managing the third best conversion rate in the top-flight so far (12.2%), the Toffees coming unstuck in part to the fact that they are firing off fewer shots at goal (13.1 down from 14.8 last season) and in part to their ageing defence proving more and more penetrable.
At the tail end of the conversion rate table, with more than enough to concern each with regards to their aspirations of survival this season, are Burnley (5.8%), QPR (6.3%) and Aston Villa (6.8%). All three sides will likely rely heavily on their star striker to help them avoid the drop but if, as has been the case thus far, there remains a lack of goal contribution from elsewhere they're sure to be there or thereabouts.
The side just above the aforementioned most profligate trio are Liverpool (7.4%), with the impact of the absences of Luis Suarez and the injured Daniel Sturridge best summed up by the fact that Brendan Rodgers' side ranked top in terms of conversion rate last season (14.7%).
Their free-scoring front men were able to bail out a defence that was shaky throughout the season, if not quite to the same calamitous degree as they have been this time around.
In an attempt to win obvious conclusion of the year at this late stage it's clear that the better a side's conversion rate, the more likely they are to meet their respective goals for the campaign.
A 67% conversion rate from Manchester United on Monday suggests that world domination may not be too far off for Louis van Gaal's men.