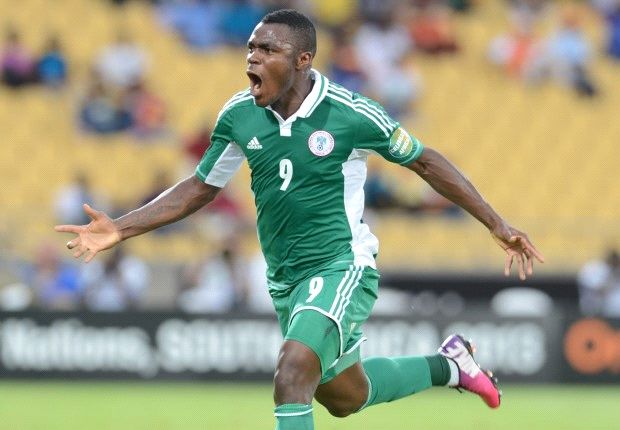 Looking forward to the coming 12 months, the team present six players who they believe should play no part in the team's attempt to comeback from the disappointments of 2014
DEBATE
By Solace Chukwu, Ed Dove & James Ezimoha
2014 is drawing inexorably to a close.
It has been a disappointing twelve months for the
Nigeria
national team, with the promise of 2013 being unrealised despite the opportunities offered by the World Cup and Cup of Nations qualifying.
Far from establishing a dominant core to the side, many of
Stephen Keshi
's chosen ones have fallen from grace in recent fixtures.
In this article, three of Goal Nigeria's writers each present two players who they believe Nigeria should cast aside in 2015.
Efe Ambrose & Emmanuel Emenike
Efe Ambrose
Nigeria's final qualifying game for the 2015 AFCON featured an interesting tactical battle: South Africa defended very narrow and marked tightly in midfield, challenging Stephen Keshi's men to break them down.
The men on the pitch with the most space were the full-backs, Efe Ambrose and Juwon Oshaniwa, who had to accelerate at least 30 metres to have anyone come out to meet them. The former is a centre-back, the latter is a shutdown left-back and little else.
It served a cogent lesson: in modern football, no one can succeed without attacking full-backs.
This is why Efe Ambrose has to go in 2015.
As the Super Eagles look to the future, it is vital that the national team seek out a proper right-back. Midfield battles have become tighter, and full-backs have never been more important. Having one proficient with the ball at his feet and capable to contribute in attack in vital.
Emmanuel Emenike
There is only so long one can labour under a burden before deciding it is easier to discard it.
Sad as it is to admit, Emmanuel Emenike is a burden now. Without a goal in over a year with the Super Eagles, especially in a team that does not rely on its midfield for goals, there is no basis for his continued presence.
His form with Fenerbahce in the Turkish Super Lig is not sparkling either, he has only managed two goals this season, and his confidence appears shot.
If form is the metric for selecting a national team (in an ideal situation, it should be) then the 27-year-old has no business in the team at the moment.
Failure to qualify for Equatorial Guinea 2015 avails the team handlers an opportunity to start afresh and look to the future. On the current evidence, Emenike does not feature in that future.
Peter Odemwingie & Ikechukwu Uche
The two players I believe ought to be forgotten in 2015 are both men with similar profiles and similar qualities. Notably, they both lived out comparable narratives and made parallel contributions to the national side.
At the beginning of 2014, neither Peter Odemwingie nor Ikechukwu Uche figured in Stephen Keshi's plans.
Both men had been sidelined following well-publicised disagreements with the Big Boss and, heading into their 30s, appeared to have a limited future with the Super Eagles.
However, the failings of Emmanuel Emenike, Ideye Brown, Victor Moses and others forced Keshi to turn back to the veterans.
After much long drawn-out speculation, both men eventually returned; Odemwingie for the pre-World Cup friendly against Scotland, Uche for the qualifier against the Republic of Congo.
Their respective stats for 2014 read as follows: Odemwingie—seven appearances, one goal; Uche—two appearances, one goal.
While they may have made pertinent (if ultimately futile) contributions, both men are past their prime. Odemwingie will be 35 and Uche 33 by the next time Nigeria could possibly feature in a major tournament, there is no dearth of bright striking talent and the New Year must herald the start of a new attacking era for the national side.
Azubuike Egwuekwe & Chigozie Agbim
Azubuike Egwuekwe
There's really no better way to put this: Azubuike Egwuekwe is not good enough for the Super Eagles and should be forgotten in 2015.
It's okay to be good but there's always better; and better is what Nigeria need.
With a population of over 150 million people within the geographical space called Nigeria, not to mention the Diaspora, there are certainly better defenders who can contribute more than what the Warri Wolves captain chips in for the national team.
His towering height, obviously, serves well for thwarting aerial threats, but unfortunately, that's about his most significant contribution to the team. And in all honesty, alternatives are aplenty.
His pace, or the lack of it, leaves much to be desired of the central defender. What can we say about his decision-making? It's as slow as the man himself.
It was an eyesore against South Africa, for example, during the qualifiers, and Nigeria deserve better.
Chigozie Agbim
Third-choice goalkeepers are not necessarily necessary, but they have to be there, just in case. And they have to be reliable, too. There are so many scenarios, though they seldom play out, where third-choice goalies have proved important additions to squads.
It won't be overstretched, though, to say that Super Eagles fans must give thanks to the man ahead of him for not allowing their darling team be in a crucial position where Chigozie Agbim needed to be called upon.
Remember that dying-minute reflex save by Vincent Enyeama from Edin Dzeko's header, which preserved Nigeria's lead, and win, at the World Cup? If that was Agbim… let's not even go there.
The CHAN catastrophe is just a page in a catalogue of his embarrassing displays.
I really don't know how Agbim got into the national team in the first place, but his time as the first-pick from the local-based goalkeepers, which is highly debatable and even laughable, should end in 2015.