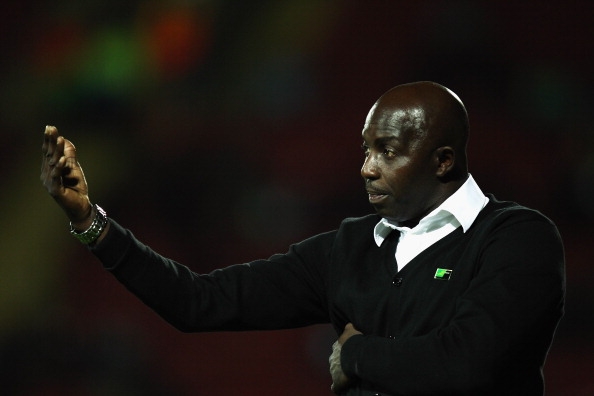 The U23 handler has hailed the quality of players that attended the screening exercise he concluded recently where he has picked 39 players both home and abroad for final camping
Under-23 coach Samson Siasia has tipped the current crop of players in the Dream Team VI fold as being capable of restoring the country's lost glory in football if given adequate time after he culled the list of the players that would resume camping with the side ahead of the final phase of build up for the all important All African Games' qualifiers with Gabon in February next year.
Siasia disclosed that the team's training will now move into the more serious phase as he and his technical crew have been able to select the boys from the men, and that this is time to go into tactical.
He said: "I must commend all those who came for the exercise, that we did not select you does not mean you are not good enough, but the reality is that only 35 players must be selected, and that was the job we did.
"We have dropped you now, for you to go back to your clubs and work extra hard to make this team in future, the doors of this team are not shut on you, if you improve and we see you playing for your clubs we will invite you to come and fight for a shirt, so don't be discouraged at not being selected.
"For those of you selected, you are just lucky, but to keep your place in this team you must go back home and continue training so as not to fall by the way side when we begin the next phase of camping, I have been impressed with what you guys have shown me and I can safely say we have a future."
After grueling and tedious exercise, Siasia has picked 39 players ahead of his final phase of preparations for the team's All African Games qualifiers against Gabon in February.
According to media officer Timi Ebikagboro, only four foreign-based players made the cut while Siasia also trimmed down on the list of the home-based players to only 35.
Samsunspor of Turkey wantaway striker, Aminu Umar topped the list of the overseas professionals retained by Siasia along with Stanley Amuzie (Sassuolo, Italy), Atanda Sodiq (FK Apolonia, Albania) and Ebere Paul Onuachu (Midtjylland, Denmark).
There are 35 home -players and these are to resume at the Serob Hotel camp of the team in Abuja on January 4 with their international passports.
The U23 gaffer said he had to select only four foreign professionals, so as not to build a team of foreign players alone, and that as the team progresses more of such players will be invited to camp to also be part of the fold.
Full List
:
‎
Goal Keepers
: Abiodun Akande (3SC), Yusuf Mohammed (Kano Pillars), Emmansin Daniel (Akwa Starlets) and Emmanuel Daniel (Enugu Rangers)
Defenders
: Stanley Okoronmu, (36 Lions), Sincere Seth (Supreme FC), Chima Akas (Sharks FC), Chris Madaki (Giwa FC), Waziri Christopher (Wikki Tourists), Dede Mughalo (36 Lions), Tope Jaiyeola (Obe Sports Academy), Azubuike Okechukwu (Bayelsa United), Peter Obochi, Segun Oduduwa (Nathaniel Babes) Olawale, (Amakson Academy) Solomon Olaleke, Faisal Sanni (Abuja Football College), Erhun Obanor (Bendel Insurance)
Midfielders:
Tiongoli Tonbara (Bayelsa United) ,Etim Emmanuel (Football College, Abuja) , Freedom Omofonma (Warri Wolves), Godwin Odibo (Nathaniel Academy) ,Samuel Adegbenro (Kwara United), Niyi Adeniyi (Godwin Saviour),Plateau United), Usman Mohammed (Taraba United) ,Samuel Chukwudi (Bayelsa United), Achibi Ekwenike (Warri Wolves), Newman Doubra,Ekene
Attackers:
Etebor Oghenekaro (Warri Wolves), Ajayi Junior (3SC), Sunday Adetunji (El-Kanemi), Peter Onyekachi (Abia Warriors), Jonathan Osondu (Adamawa United)
Foreign based players
: Onuachu Paul Ebere (FC Midtjylland,Denmark), Aminu Umar (Samsunspor, Turkey), Stanley Amuzie (Sassuolo, Italy), and Atanda Sodiq (FK Apolonia, Albania)