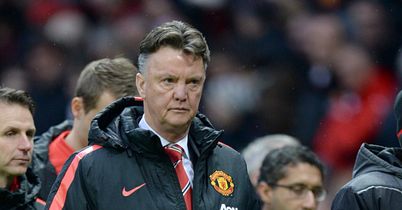 Mark Holmes praises Louis van Gaal's honesty but has criticism for Roberto Martinez and the weak defences of Liverpool and Arsenal.
Van Gaal proves his credentials
Back in March, after Manchester United had been beaten 3-0 at home by Manchester City, David Moyes said the Reds 'aspired' to get to the level of their cross-city rivals.
Unsurprisingly, on the back of what was a sixth home Premier League defeat of the season for a side that had won the title the year before, Moyes comments did not go down particularly well with the club's supporters.
It could be argued, then, that it is a sign of lowered standards and expectations that Louis van Gaal has not been pilloried for also making unfavourable comparisons between United and City in the wake of a 1-1 draw at Aston Villa on Saturday.
However, the very fact that Van Gaal felt the need to complain after such a result highlighted the difference between him and his predecessor, who regularly declared himself happy with performances which pleased few others of a Red persuasion.
Standards certainly have slipped since the retirement of Sir Alex Ferguson but in Van Gaal United again have a coach that is contented by nothing other than the best possible performances and results.
The Dutchman's only aim is to get the side challenging for the league title again, and he knows full well they will not do so playing as they did at Villa Park. Paul Lambert's side played well, but that is no excuse for a side with the ambitions of United.
They may have gone into the game on the back of six straight wins but there was no chance of Van Gaal dressing up that performance or result as anything other than what it was: a poor one.
In an age when many managers prefer to focus endlessly on positives, however few there may be, Van Gaal's bluntness and honesty when assessing his side's performances is a breath of fresh air, and it is also exactly what this United squad needs.
Rio Ferdinand's assertion that Moyes "did not like confrontation" backed up the belief that many onlookers already had that the Scot was scared to criticise his players. He was more a friend than a leader. He did not command the respect of the dressing room.
There was never much chance of Van Gaal suffering the same problem, and United's players now know they cannot get away with sub-standard performances. Only the best will do.
Good tactics can take a manager and a team a long way, but it is the ability to inspire players to regularly reach their best levels that truly separates the great from the good.
Ferguson, of course, was the master at that and while Van Gaal has a long way to go to justify comparisons to the great Scot, in Manchester at least, his reaction to a first setback in seven proved he has the right character to drag this side out of the (relative) doldrums.
Unlike Moyes, he is worthy of the title of Manchester United manager.
Martinez must get selection right
Anyone that has met Roberto Martinez will tell you what a lovely, genuine man he is. In fact it is hard to imagine there is anyone out there that even slightly dislikes the Spaniard.
Perhaps that is why he has come in for so little criticism from the media for Everton's poor performances in the Premier League so far this season. Mauricio Pochettino, for example, has faced much more, yet Tottenham, although under-performing, are six points clear of the 11th-placed Toffees.
Worryingly, there is not even a tale of hard luck to excuse their problems. There have been injuries to key players, plus the added games of the Europa League, but that certainly doesn't explain why a strong-looking line-up produced such an abject display at Southampton on Saturday.
The deployment of Ross Barkley on the left flank, with Steven Pienaar kept on the bench throughout, will no doubt have irked fans, as too will the persistence with the out-of-form Gareth Barry, while the team's defensive issues will be familiar to those that watched much of Martinez's Wigan.
He inherited a strong back five at Goodison Park but the effectiveness of 37-year-old Sylvain Distin has understandably waned, while Tim Howard and Phil Jagielka have also put in several poor performances, perhaps by coincidence or possibly as a consequence.
Whatever the answer, even with John Stones waiting in the wings, Martinez will soon have to do what he could not at Wigan: solve his team's defensive problems in the transfer market.
Whether he can do that will not be answered for a while yet but in the meantime Martinez must remember that it is not tactics, a mentality or an ethos that wins games but players.
It is the manager's job to pick the right ones and, right now, Everton's isn't doing that.
Liverpool improve in Arsenal draw
There is little to write about Liverpool's draw with Arsenal that has not already been written or said, but Brendan Rodgers deserves some praise for a vastly-improved performance from his side.
Defensive issues will not disappear any time soon - and may ultimately lead to his demise - while the inability to make the most of several good chances against the Gunners is a problem that will persist until the return of Daniel Sturridge, but the Reds, in their new 3-4-3 formation, truly dominated a game for perhaps only the second time in the Premier League this season, the other against Tottenham when Sturridge played.
That Rodgers described his side as "brilliant" before going on to admit they "need to make better decisions defensively" highlights the difference in management styles between him and Van Gaal, but on this occasion you can understand the Northern Irishman's happiness, particularly after a last-gasp equaliser.
For Arsenal, meanwhile, a draw was a good, if scarcely deserved, result. Yet still they left feeling frustrated after taking the lead only to drop two points courtesy of yet more weak defending from a set piece.
Per Mertesacker's embarrassing duck did not go unnoticed, while Calum Chambers is yet example of Arsene Wenger favouring potential over reliability in a crucial area of the park, but none of this is news to Arsenal supporters.
Although there may be positives for both sides to take out of Sunday's game, what it really highlighted was that, no matter how much Rodgers and Wenger love to talk about dominance of the ball, neither side will win a title until their managers realise the importance of a strong defence.