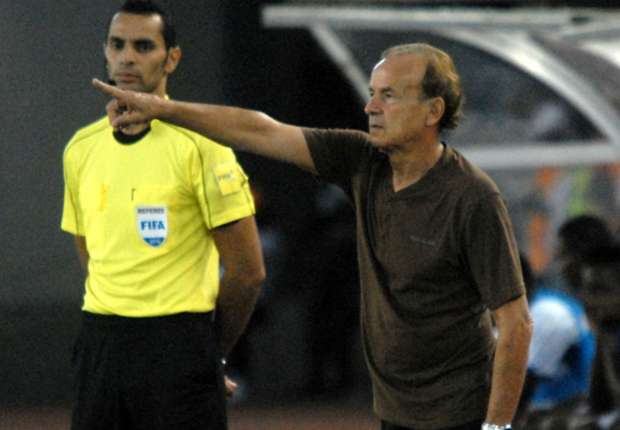 There were as many questions as solutions for the German technical advisor as he oversaw his first international break
COMMENT
okeowo destiny

Follow on Twitter
---
Kelechi Iheanacho
's late winner ensured that Gernot Rohr's first game as
Nigeria
coach didn't end in disappointment and Super Eagles fans will surely be relieved that the national side ended their miserable Nations Cup qualifying campaign with a win.
This is the beginning of Nigeria's new era, although it hardly started with a bang, as the German technical advisor was made aware of the work they have ahead of them.
Iheanacho's strike brought joy to the terraces of the Godswill Akpabio Stadium in Uyo, but this is a big job!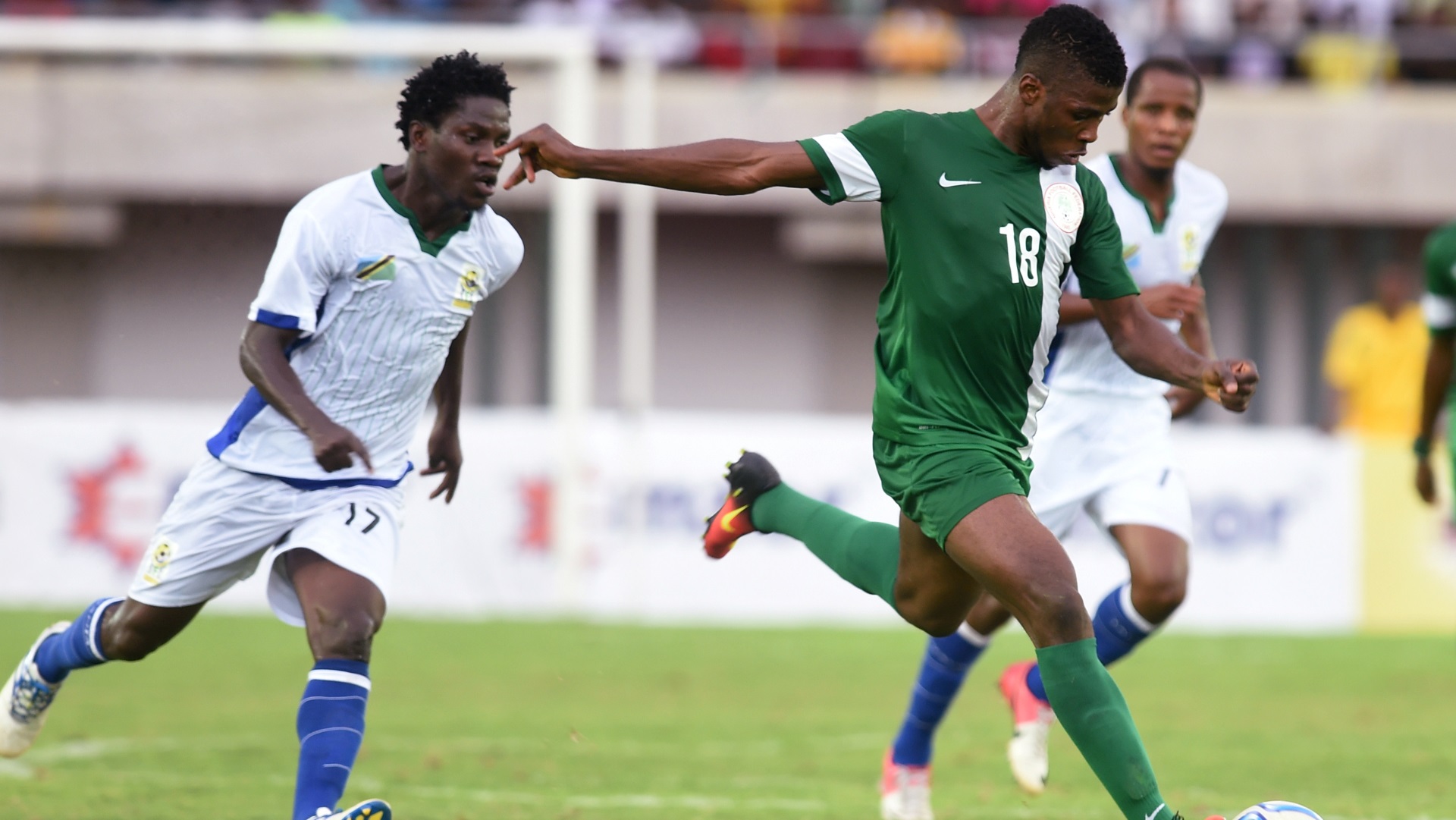 Rohr's first team line-up was rather reminiscent of the teams that Samson Siasia used to put out, with an ultra-attacking selection including four strikers and one whose early days were spent playing just behind them.
Elsewhere, there were as many questions as there were solutions.
At right-back, Musa Mohammed is beginning to help fans forget Chidi Odiah, for whom a viable long-term successor has been so hard to find, by giving a good account of the talent that once saw him compared to Brazil's Dani Alves.
However, as with the current Juventus full-back, the positives come alongside the negatives, and a lack of positional discipline comes hand in hand with a lethal turn of pace.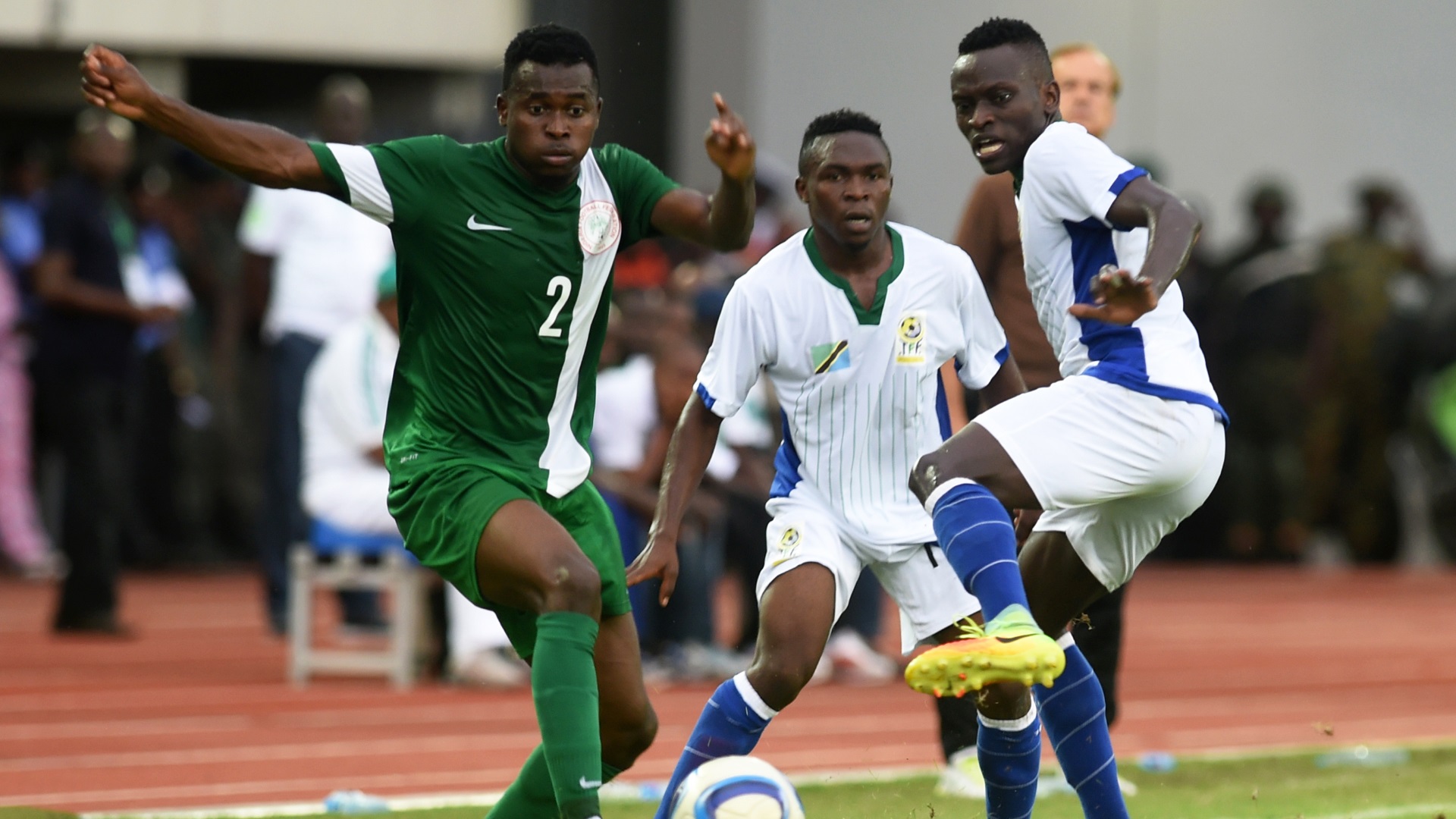 There was also an issue with Mohammed occupying the same space that Ahmed Musa—Leicester City's record signing—is meant to fill.
The latter was typically left on the fringes of the game, and while there were a few lightning exchanges between the pair, the Foxes forward doesn't have the close control and intelligence to drift infield and make himself useful when the occasion calls for it.
Similarly frustrating on the left was the relationship—or lack thereof—between a resurgent Victor Moses and the increasingly cautious Elderson Echiejile, whose offensive contributions were limited to one or two isolated forays forward.
Encouragingly, Leon Balogun was a dominant presence alongside Olympic hero William Troost-Ekong—raising questions about the futures of Kenneth Omeruo and Godfrey Oboabona—and ensured that Carl Ikeme was barely tested.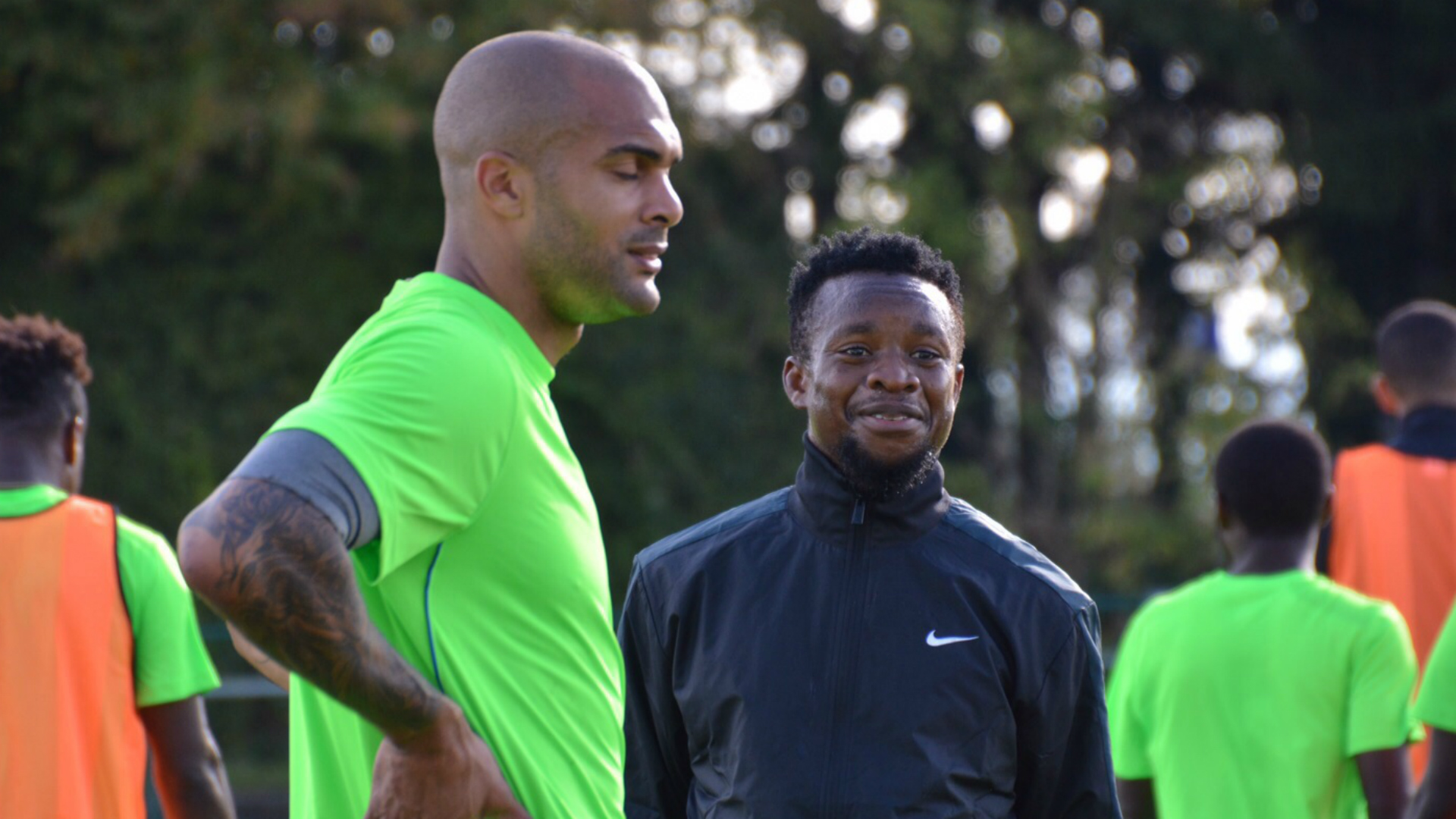 Perhaps the only concern for the Wolverhampton Wanderers stopper is whether Vincent Enyeama decides to return to the fold!
In midfield, Ogenyi Onazi didn't transfer his fine form in Turkey to the international arena, and was outshined by John Obi Mikel, while Kelechi Iheanacho constantly came deep in search of the ball—a role that isn't to the liking of club boss Pep Guardiola.
Perhaps we can explain away Iheanacho's brief as pragmatism on the part of Rohr, although there is an expectation in some corners of the fanbase that the showing against Tanzania was the template for the German's time in the hotseat.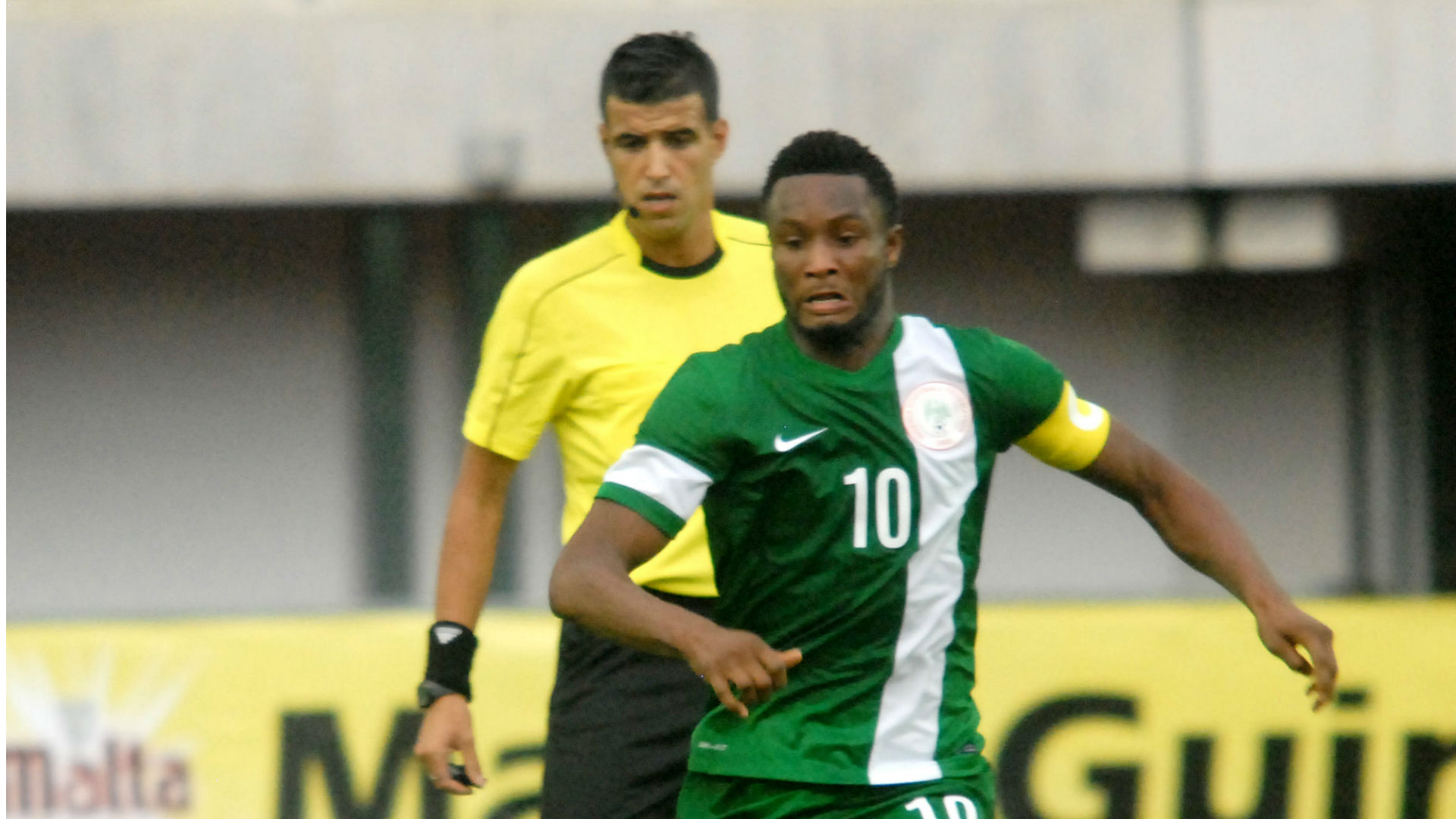 In attack, by contrast, Rohr will have perhaps learned little—although he'll surely hope Nigeria don't find themselves up against the Taifa Stars' 20-year-old goalkeeping starlet Aishi Manula too often.
A major failing for the Super Eagles during their ill-fated Afcon qualifying campaign was the inability of a series of misfiring strikers to find the net, and Odion Ighalo—the chief culprit—still looks a shadow of the striker that terrorised defences up and down England during 2015.
There's still hope that an Iheanacho-Ighalo pairing can work, but how long can Rohr persist with the duo without seeing any kind of tangible reward?
Bear in mind that the upcoming World Cup qualification challenges—Algeria, Cameroon and Zambia—may not present as many opportunities as Tanzania did, the Super Eagles must finally find a consistent offensive solution…and
Leave a comment
11) Victor Moses may not have had the best of matches against Tanzania butwe must not be in a hurry to forget his performance against Egypt in Cairowhere he did everything possible to fire Nigeria to AFCON 2013. The good thingabout competition is that Victor Moses can look back and see Younger MosesSimon who possesses almost exactly the same qualities as his. The fact thatMoses Simon can score from free-kick is another plus.
Seyi Ojo of Liverpool FC and Shola Ameobi of Newcastle are other players ofNigeria descent who if captured can provide the much needed competition in Eagles.Before we conclude, we must not forget Isaac Success who though a sharpstriker, has featured for Granada FC from the left side of the attack.
Victor Moses (Chelsea FC England). Moses Simon (Genk FC Belgium). Isaac Success(Watford FC England).
With this array of players and the Technical know- how of ROHR who I wouldhave preferred he worked with Samson SIASIA(Under 23 coach) and Emmanuel AMUNIKE(Under 20 coach) as his assistants to save cost and to further prepare thiscoaches for Super Eagles job in the future.
No matter how you look at it, it will be verydifficult for Yusuf and Amama to manage super Eagles as they may not commandthe necessary respect from the legion of foreign based Nigerian players. If wecannot get coaches that can learn from ROHR, what and what would we
Leon Balogun/Ekong'spartnership appeared promising in the back against Tanzania, but the greatestmistake ROHR can make is to jettison the likes of Omeruo, Ambrose and Oboabonaand conclude that Eagles have arrived. Leon to me needs more matches to provethat he can dethrone Omeruo/Efe in the centre of Eagles defence. While NFFneeds to get Manchester City's young lanky Adorabioyo to done the colours ofNigeria, we can consider Wilfred Ndidi and Chidozie Awaziem as another optionin the back. Ndidi though play as a central midfielder for his club, can asshown in his Under 17 and 20 days play as an anchor man in the central defense.My take, Omeruo/Ekong's partnership should be given a try.
Kenneth Omeruo (Alanyaspor Turkey)
leonBalogun (Mainz Germany). Chidozie Awaziem (FC Porto).
6) William Troost Ekong appears to be the name that will remain in the lipsof Nigerians in a long time. Young, Strong, hard, intelligent and fast. Thefair skinned defender has from all indication cemented a position in the Eaglesback four. One can only pray for him to secure a contract with a major clubthat can give him the necessary exposure to compete with best in the worldfootball. Oboabona and Ndid will need to work really hard to take this positionfrom Ekong who through his performance in the Olympic has warmed himself to theheart of Nigerian soccer loving Fans.
Kenneth Otigba of Kasimpasa has also again reached out to NFF to finalisethe necessary documents that will enable him represent Nigeria while Queen ParkRangers captain Nedum Onuoha who rejected Nigeria in his prime is now showing acome and get me signal.
William Troost Ekong (HaugesundNorway). Godfrey Oboabona (Rizespor Turkey) Wilfred Ndidi (K.R.C Genk Belgium).
7) This position for some years now has been synonymous with Leicester City'swing Wizard. Ahmed Musa the Super Eagles Assistant Captain has failed to showhis stuff in the recent matches he played for Eagles. He has for the umpteenthtime given a below average performance in the Eagles Colour. RoHR must startconsidering the likes of Imoh Ezekiel who gave a sterling performance in thelast Olympic and Brown Ideye though a striker, but has played in that positionin the past. Mfon Udoh of Enyimba FC
whohas proved to be a consistent scorer from this wing.
Jordon Ibe's England snub can also be a blessing for Nigeria if needed.
Ahmed Musa (Leicester City FC)
ImohEzekiel (AL Arabi Quatar). Brown Ideye (Olympiacos Greece)
8) John Mikel Obi arguably is the best player Nigeria can parade in her midfieldat the moment. Mikel can be of assistance going forward, defends very well andsupplies defense splitting passes needed to win matches. He has been described asa deep skillful midfielder. He is Nigeria's Andre Pirlo. As he is getting moreand more aged, one cannot help but be happy that the likes
of Oghenekaro Etebo is coming through therank.
John Mikel Obi (Chelsea FC England) Oghenekaro Etebo
(CDFeirense Portugal) Nosa Igiebor Macabi Tel Aviv Isreal.
9) As blessed as Nigeria is in this position, scoring goals has become aserious challenge that needs immediate solution. Odion Ighalo, the currentsuper Eagles number 9 has again and again failed to replicate his club form in Nigeria'scolour. A team cannot afford to create as many chances as Nigeria createdagainst Tanzania and still managed only one goal from the midfield. Odion's failureto ignite his club form to the national team has opened a new debate of whetherwe need Emmanuel Emenike back especially as he appears to have rediscovered hisscoring form. Call for speedy resolve of issues regarding Arsenal's young ladChuba Akpom's international future is again back to the front burner. ChisomChikatara's performance in the CAF Champions league is again a topic. Ighalofor once needs serious competition, may be, it will help him to notch in thenecessary goals needed to propel Eagles to world cup in a group that has thefree scoring Algerians and the indomitable (Nigeria's nemesis) Cameroon.
Odion Ighalo (Watford FC England) Emmanuel Emenike (Fenerbahce Turkey) AaronSamuel (CSKA Moscow). Victor Osimhen (Wolfburg Germany)
10) The position that has arguably remained void since the ouster of AustinJay Jay Okocha appears to has receive the necessary respite with the emergenceof Kelechi Iheanacho who many has likened to former Super Eagles and Arsenalslegend Kanu Nwankwo and Alex Iwobi of Arsenal who appears to be the new AustinOkocha (coincidentally he is Okocha's nephew).
If Iheanacho is the new Kanu, then Iwobi is the new Okocha. Wait, have youseen Ovie Ejaria of Liverpool?
This generation of players if well managed will certainly bring back theglamour that long left Nigeria since 1996. Josh Onomah of Totenham is anotherpromising young player that we must work hard to get to commit to Nigeria.
Kelechi Iheanacho (Manchester City FC England). Alex Iwobi (Arsenal FCEngland). Ovie Ejaria (Liverpool FC England)
11) Victor Moses may not have had the best of matches against Tanzania butwe must not be in a
ROHR ON THE RIGHT PART BUT…........

We just watched a match of a Nigerian Team with a clear cut strategy. Amatch where Nigeria created a lot of scoring chances but failed to convertmost. We can only take a positives from this match and it means that Nigeria ifproperly guided can cruise to part of greatness again. We saw a Nigerian teamthat adopted a style of 4-3-3 format. Especially in the midfield where Mikel andIheanacho shown like million stars. How I wish Conte can continue to fieldMikel in this position.(All thanks to SIASIA) for reminding us of the forgottenpart of Mikel.
ROHR's part can get even stronger if we can create even more competition inall the positions. Permit me to suggest at least 3 players that can fortifyeach of the positions.
1) Carl Ikeme has proved that he can be a worthy replacement for VincentEnyeama though I think we still need our safest hand for the journey ahead. Ifwe can get him back to the fold, i believe the younger keepers like EmmanuelDaniel and Dele Alampasu can learn alot from him. While Emmanuel Daniel appearsto be the new Joseph Dosu, I believe Ikechukwu Ezenwa, Daniel Akpeyi can alsostay around to compete for the number one spot.
Vincent Enyeama, (Lille France) Carl Ikeme(Wolves England) Emmanuel Daniel(Rangers FC Nigeria) Daniel Akpeyi (Chippa United South Africa) IkechukwuEzenwa (Ifeanyi Ubah FC Nigeria) Dele Alampasu (CD Fairense Portugal).
2) Musa Mohammed as was seen has shown maturity. He is no longer a youthinternational but a strong super Eagles material. While I didn't quite believethat Shehu did a bad job in the same position in the Olympic. I strongly thinkMusa Mohammed is the real deal in the position as he is an improved Shehu goingforward, his crosses are good and he can be a handful to the wingers. His addedadvantage is that he can be of help to our years of dearth in dead balls as wasseen in his days at the Under -17. Efe Ambrose can be said to be aged at themoment in the same position but he is still very useful going forward. If onlyhe can avoid some costly errors and his marking, he can still be very useful forthe super Eagles both in the right back and central defence. NFF also needs toconsider reaching out to Chelsea's 19 year old right back Ola Aina and Hull'stop performer last season Moses Odubajo for consideration in the new superEagles rank. Mikel and Moses's presence in Chelsea can be of essence in gettingOla to don the green white green ahead of featuring for the three lions.
Musa Mohammed (Istanbul Basaksehir Turkey). Efe Ambrose(Celtic FC Scotland).Shehu Abubakar (Cypriot Anorthosis Cyprus).
3) It is not a surprise that Monaco FC of France farmed Nigerian Left backElderson Echiegile on loan to Standard liege as he has found first team actionvery rare. Fabio Coentrao last season and Djibril Sidibe this season meantEchegile had to look for first team action elsewhere. Echiegile as far as I amconcerned is still very good for the left back position. The presence of KingsleyMadu of Zulte Weltergem and Stanley Amuzie of FC Sampdoria Italy meantEchiegile must consistently be at his best to maintain his position.
Elderson Echiejile (Standard Liege Belgium) Stanley Amuzie (FC sampdoriaItaly) Kingsley Madu (Zulte Weltergem Belgium) Chima Akas (Enyimba FC).
4) The defensive midfield position has not been a problem for Nigeria in therecent time. Nigeria can be said to be rich in this position as we have playersscattered all over the world for this position. Outside Mikel's new found position,he can very well man this position ahead of Ogenyi Onazi. We also have playerssuch as John Ogu who was very outstanding in his club's capture of Isrealileague last season. Anderson Esiti who was named in the Portuguese league top11 players last season. Azubuike Okechukwu who showed his class in the lastOlympic. Mohammed who partnered Azubuike and Mikel very well in the lastOlympic and Injury plagued Joel Obi who has failed to live up to his billing asthe new Edgar Davis in football. Mikel Agu of Sporting Lisbon and Wilfred Ndidiare also notable names for this position.
Ogenyi Onazi (Trabzonspor Turkey) John Ogu (Hapoel Beer Sheva Isreal) .Azubuike Okechukwu (Yeni Malatyaspor Turkey). Kelechi Nwakali (Arsenal FC).
5) Nigeria's most problematic position in the recent years has been in thecentral defense. In 2013, surprise combination of Omeruo/Oboabona produced asuperb performance that saw Nigeria clinch long awaited AFCON trophy. Itappeared the stock of this players rather than go up has been on the steadydecline. Under their partnership Nigeria for the first time in the recentmemory has failed to qualify for AFCON back to back. One cannot help but wonderwhy Chelsea FC would have a player like Omeruo in their folds and still go aboutpractically begging Clubs to sell their Central defenders to join them whilelooking for funny Turkish Clubs where Omeruo can go and get playing time. Thismore than tells a lot about Omeruo's worth in the market at the moment.. Leon Balogun/Ekong's

the only answer to our attacking dilemma is a certain Stanley ohawuchi of wadi degla of Egypt...thank you