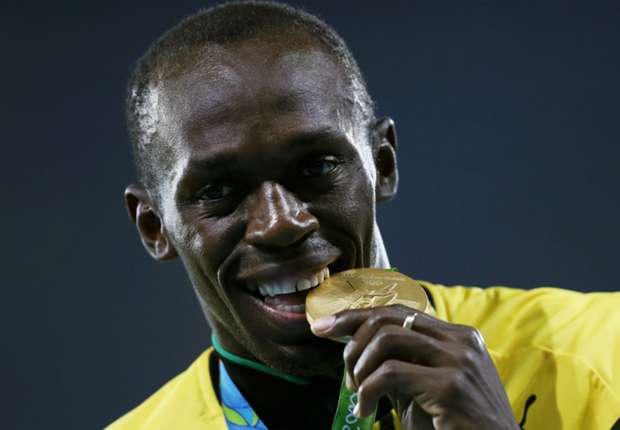 German sportswear company Puma, who sponsor Bolt and have a representative on Borussia Dortmund's board, have designed football boots specifically for iconic athlete
---
EXTRA TIME
---
The impending union between Usain Bolt and Borussia Dortmund has generated a lot of excitement.
Messi, Ronaldo, Suarez? Click here to see the countdown of the 50 best players in the world in the 2016 Goal 50
The winner of nine Olympic gold medals has repeatedly talked of his desire to play football and will make his dream a reality soon when he starts training with the Bundesliga side.
It is no surprise, then, that one of the key orchestrators in the agreement, Puma, who sponsor both the club and the Jamaican, are ready to benefit from it.
The German sportswear company is represented on the board of the German giants and have already designed a pair of boots for Bolt to wear as he looks to make a switch to football.
Puma tweeted a picture of the boots, which are half orange and half white with a small Jamaican flag and "Bolt" written on them.
"Your boots are ready, Usain Bolt," Puma wrote.
From being attacked by angry mums to Chelsea's first-team – the rise of Victor Moses
Bolt has said repeatedly that he wants to play for Manchester United, his favourite team, and is confident he would impress if given a trial.
"In my mind, I think I should do a trial and see if they would say 'Alright, come on in' or if they would say 'No, you are not any good'. I think I would be pretty good because I am fit, I am quick, I can control the ball and I understand all of the play," he said last year.
Instead, his voyage into 'the beautiful game' will be in Germany, and Dortmund CEO Hans-Joachim Watzke maintains that all parties are excited about the prospect, even coach Thomas Tuchel.
"It is not a joke that Bolt will train with us at some point," Watzke told
Kicker.
Nasri: Guardiola banned sex after midnight - he says it's how he got the best out of Messi
"I immediately said that was not a problem and the coach is okay with it as well.
"It will obviously not happen when we have two games in one week, but probably when things are a bit quieter. The team will like it as well."
Watzke insists, though, that there are no guarantees Bolt will be given a contract.