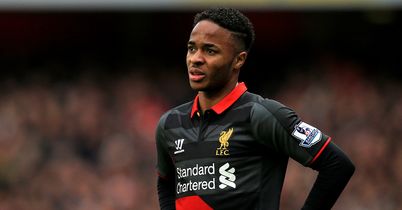 Selling Raheem Sterling for £40m this summer is a "no brainer" after an underwhelming season at Liverpool, according to the Sunday Mirror's Andy Dunn.
The 20-year-old's future at Anfield is very much in doubt after the club cancelled scheduled contract talks on Friday.
Sterling has two years left on his contract but reports have linked several clubs with a move for him, with reports indicated Manchester City would be interested in a move if he becomes available.
The papers have suggested figures ranging between £40m and £60m for Liverpool to part with Sterling - and Dunn believes his performances this season mean the Reds should cash in.
"His finishing, for me, is not very good, or hasn't been very good this season," he told the Sunday Supplement.
"Last season I thought he was outstanding, but there were factors that contributed to that. He had Luis Suarez creating the space - unremittent, hard work, brilliant - he had Daniel Sturridge fit, and he had Steven Gerrard who basically had his last season of showing his majesty.
"It gave Sterling the environment in which to flourish on the football field, and he did.
"This season those things, for one reason or another, haven't been there to support him. Basically he hasn't produced as much, or kicked on as much as I hoped he would.
"I say £40m, some newspapers are saying Liverpool want £60m. Well, £60m is an absolute no-brainer for me.
"When Brendan Rodgers talked him up earlier in the season, saying he was the best young player in Europe, I do wonder if they just had one eye on the fact he might go at the end of the season and they want to get the best possible fee for him."
The Daily Telegraph's Henry Winter believes people shouldn't judge Sterling on his blip in form and understand he wants to play at the top, but admits money has become the overriding issue.
"Let's rewind a year - there were very few bright spots for England during the World Cup and Sterling was good there," he said.
"He is a good player. He's been distracted, clearly, over the last two months. It's self-inflicted - I don't think there's much sympathy for him.
"I think it's 80 per cent about money, but there's also 20 per cent about ambition and wanting to play in a Champions League team, and you can't blame him for that.
"The facts is there are big clubs interested in him. Why are they interested in him? It's because he's English, because he's young, because he's quick, because he's shown he can play in a variety of positions.
"There's a good player there who's having a very bad - and badly handled - two months."