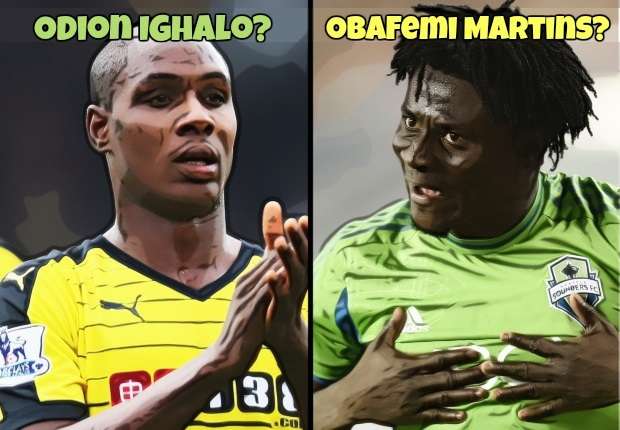 Sportmasta ask which Super Eagles striker should lead the line for Sunday Oliseh's side against Swaziland
Sportmasta ask which Super Eagles striker should lead the line for Sunday Oliseh's side against Swaziland
Looking ahead to the bout against Swaziland, two of Goal's finest debate whether Martins' return should be marked with a starting berth, or whether Ighalo should lead the line once again.
You don't ask a 31-year-old man to fly an astonishing 7678 miles across the Atlantic (to Abuja) only to leave him on the bench in a crucial World Cup qualifier away from home!
Now, if that's not enough reason to give him the nod over Odion Ighalo (who, just in case you are wondering, flew a meagre 3118.96 miles to Lagos), then here is more.
It is expected that Sunday Oliseh's men will play cautiously on Friday, owning to the hostility that could arise in faraway Lobambo, Swaziland. Any other approach would perhaps be considered an unnecessary risk.
The tact is simple (and wise): Sit back, soak in pressure and, with every opportunity, hit back with a blinding counter-attack that should see the ball end up at the back of the net, or at least test the goal-keeper.
To this regard, Ighalo's strengths may not be ideal as the first option against the Sihlangu Semnikati of Swaziland, who will know the importance of making the most of home advantage before the return to Nigeria.
And that's why the devastating pace and trickery of the Lagos-born goal-machine comes in handy. See his debut goal against Ireland in 2004.
His ability to leave defenders in his stride, as well as maximizing pockets of space to the greatest possible capacity makes him the ideal choice to lead the line for the Super Eagles.
After more than two years in international wilderness, the Seattle Sounders forward needs no extra motivation to give 110% for the team. And at 31, knowing full well that his time in the international scene is coming to a closure, he is certainly wiser and calmer.
The hot-headedness associated with youngsters, who may put the team's aspiration in jeopardy with a bizarre moment of madness, cannot be attributed to him; a crucial mental disposition required for such a delicate assignment.
Having been around the block for over a decade, his wealth of experience will be beneficial to the team on and off the pitch in this double-legged encounter.
Ahmed Musa may be the captain but Martins can provide a more compelling voice when the going gets tough.
His 18 goals in 40 appearances for Nigeria may not turn heads but his current form in Major League Soccer has been nothing short of impressive. Five goals and two assists in his last 10 games paints the picture perfectly.
In Martins, the Eagles have a lethal weapon of mass destruction, which can be used to devastating effect.
In truth, Harris Bulunga and his team wouldn't know what hit them until after the final whistle.
They don't call him 'Obagoal' for nothing!
Follow James Ezimoha on

Forget Nostalgia, Ighalo must start
There has been very little continuity in the Super Eagles dugout since Obafemi Martins made his international debut in 2004, decimating Ireland with pace and daring. With successive managers electing to rip up the script and espouse a nebulous building agenda, the Seattle Sounders man is set for what is essentially another debut.
We can have no idea how he fits into the frame that coach Sunday Oliseh is designing, postulations aside. In backing an out-of-sorts Emmanuel Emenike for so long, we can deduce that the gaffer favours a hard, aggressive runner and grafter.
Player Ranking — Barclays Premier League
| # | Player | GP | Team | Goals |
| --- | --- | --- | --- | --- |
| 1 | Jamie Vardy | 15 | Leicester City | 14 |
| 2 | Romelu Lukaku | 14 | Everton | 10 |
| 3 | Riyad Mahrez | 14 | Leicester City | 10 |
| 4 | Odion Ighalo | 15 | Watford | 9 |
| 5 | Harry Kane | 15 | Tottenham Hotspur | 8 |
| 6 | Olivier Giroud | 15 | Arsenal | 8 |
| 7 | Georginio Wijnaldum | 15 | Newcastle United | 7 |
| 8 | Sergio Agüero | 10 | Manchester City | 7 |
| 9 | Ross Barkley | 14 | Everton | 6 |
| 10 | André Ayew | 15 | Swansea City | 6 |
If this sounds like Martins, then permit me to break it to you: your head is stuck in the mid-2000s. Like all living things, time has worn down the impressive 'Weapon of Mass Destruction'; while he still possesses considerable locomotion, it comes only in spurts, a little here, a little there.
It would be the height of desperation to entrust the lead attacking role to Martins. Swaziland, by virtue of their modest standing, might not be the slipperiest of customers, but the Super Eagles need to get a goal away in order to make the home leg a less troublesome proposition. With seven Premier League goals this season, there is none more qualified than Watford's Odion Ighalo.
Ighalo | Enjoying a remarkable goalscoring run
He has been content with cameo roles so far, and notched his first goal of the Oliseh regime with a deft glancing header against Cameroon. It is only natural that, having proven himself faithful in little, he be entrusted with much. It is the healthy approach for squad harmony, it is the prudent choice in a potentially tricky two-legged World Cup play-off.
Let's leave off the nostalgia trip till the job at hand is completed. Even at the peak of his powers, Martins' debut came in a friendly. Perhaps those games versus DR Congo and Cameroon were the right time to give him a run. Opportunity missed. It would be a mistake to remedy that with a starting berth on Friday.
Stephen Keshi, the very definition of cold practicality, found this out the hard way, recalling Martins in 2013 for a crucial World Cup qualifier in Port Harcourt against Kenya. Thankfully, his side salvaged a late point; so out of tune with the rest of the side was the 31-year-old that the team struggled to muster any meaningful attacking actions with him at the tip. Mind, this was in a round robin format, with relative room for error compared to a two-legged play-off.
Nigeria no longer have the luxury of being able to look down on certain nations.
As Tanzania showed in Oliseh's first game, you need you A-game at all times, even on the African continent. Anything less, and you're asking to become an unflattering statistic. The unpreparedness of the giants is the avenue within which nations, hitherto referred to as minnows, seek to play.
The safe option, in this case, is really the only logical one.