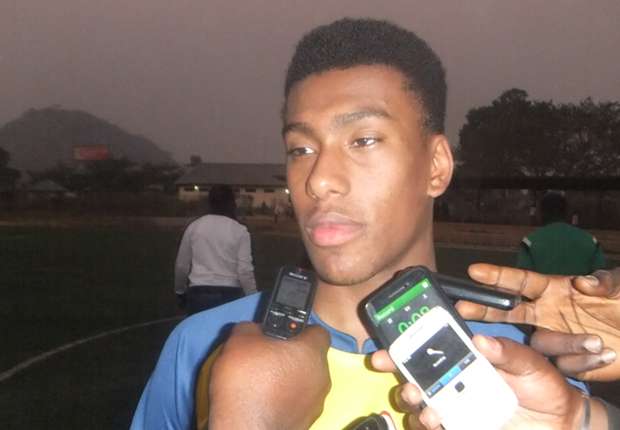 The young Arsenal midfielder has spoken of his decision to change his international allegiance to the Nigerian U23 side after previously playing for England at all youth levels
Arsenal midfielder Alex Iwobi has said that his famous uncle Austin 'Jay Jay' Okocha and club legend Nwankwo Kanu made him switch allegiance to Nigeria.
The 18-year-old who was born in Lagos but moved to England as a child has played at many levels of the English national youth teams but has now decided to play for his parents' country.
Iwobi turned up for his first training session at the U23 camp on Wednesday where coach Samson Siasia is building a new squad that will be the fulcrum of the future Super Eagles.
"Ordinarily I would have loved to play for England since I have played for all the under-aged teams up to the U- 19, but Austin Okocha, my mother's relation, who I respect a lot for his exploits with the Super Eagles and most especially for his records with Bolton Football Club. And also the outstanding records of Kanu Nwankwo that I met and read about in England, influenced my decision to play for Nigeria," Iwobi told media in Abuja.
"My dad too has told me a lot of things about the honour and pride that goes with playing for one's father's land.
"So I thought a lot about this and decided to play for Nigeria," he said.
The youngster, who signed his first professional contract in May 2014, is highly revered by the Gunners who described him as an attacker who "can play on either wing and has the ability to unlock defences with his direct style and incisive passes."
Alex Iwobi and his father Chuka
The player's father Chuka Iwobi told media that club boss Arsene Wenger wanted his ward to play for England but he insisted on bringing him back home.
"His club manager preferred he played for England because of his talent, but his mother and I advised him to play for Nigeria and he agreed," Chuka said.
"Alex has huge respect for Okocha since he has watched his video clips and read about his exploits while playing in England as well as in the Super Eagles.
"He is also aware of Kanu Nwankwo who played for Arsenal and also captained Nigeria so he agreed to play for Nigeria," he said.
While Alex is expected to prove himself with the U23s, he would return to England on Sunday.
The midfielder joins Victor Anichebe, Victor Moses and Shola Ameobi in an increasing line of former England youth internationals that have opted to play for their parents.