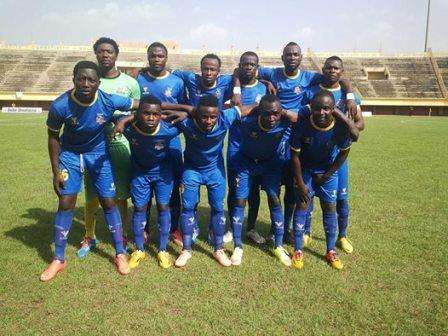 The Congolese team are in Nigeria for Saturday's Caf Confederation Cup second round, first leg match against the Seasiders in Warri
Players and officials of MK Etancheite have landed in the Warri ahead of their second round, first leg clash of the Caf Confederation Cup against Warri Wolves on Saturday.
MK Etanchéité dumped South Sudan's Al-Ahly Shendi 6-3 on aggregate while Nigeria's Warri Wolves advanced on a 2-0 aggregate win at the expense of Ethiopia's Dedebit both in the first round of the Caf Confederation Cup.
A 27-man delegation from the Democractic Republic of Congo arrived on Tuesday afternoon aboard Arik Airline. The Congolese contigents landed at the Murtala Mohammed Airport, Lagos at 11am and were received by officials of Warri Wolves before connecting immediately to Warri.
The Congolese outfit who are the 2014 Coupe du Congo winners have in their fold top-player like Captain Kabangu, Losiyo Bofumbo, Mombo Lusala and Kabangu Ndima among others.
"The Congolese team actually arrived Lagos at 11am and we took them straight to Warri on Tuesday with a 27-man team. We know that they mean business by coming five clear days before the match," Etu Moses, media officier Warri Wolves confirmed to
Sportmasta.
Meanwhile, the match commissioner from Ghana and match officials from Sychelles are expected to arrive in Warri on Friday.
The match will be played at the Warri Township Stadium and kick-off time is by 4pm.