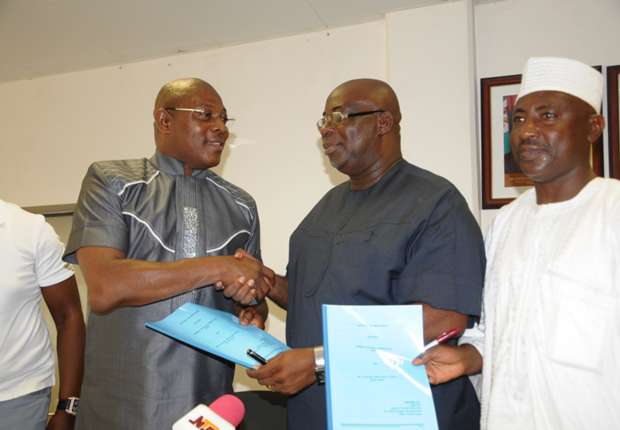 The Super Eagles trainer has told everyone in the football community to assist him in achieving success in his second spell in charge
Coach Stephen Keshi has said that he needs the support of all Nigerians to tinker the Super Eagles to success in his second coming as the team's handler.
The 53-year-old was unveiled in Abuja on Tuesday afternoon where he signed a new two-year contract with the Nigeria Football Federation after months of speculations.
"I want to thank God for this day. I want to thank God because there are so many reasons for this. I am one out of 170 million Nigerians and I have been given this opportunity again to serve my fatherland and I really thank God for that," Keshi said.
"I also thank the NFF office which is my office, the president of the Federation, Mr [Amaju] Pinnick and the whole [Executive] Committee. I also want to thank Nigerians who think I have something to take Nigeria somewhere. But Keshi alone cannot do this job. It's big, it's huge. If you want to succeed it can't be one man's effort, it's going to be a collective effort.
"I know I will get 150 percent support from my office, the NFF, and I want to think and I want to believe that this great media right in front of me here is going to [give support] 120 percent for Nigeria's success. If we all come together as one, the sky is the limit for Nigeria.
"This is a new page in Nigerian football and we are going to do everything that we know to do for Nigeria to be up there.
"What happened in the past has happened. We won, we lost that is win some, lose some. This is the time that we all need to come together concentrate, fight as one nation. This is our own nation.
"We don't have another nation. This country is too big, we are too important to let ourselves lose anything.
"So please, I am begging [journalists] that we should talk together, work together in sincerity for the whole game. No sentiment about it but let us make Nigeria, Nigerians and ourselves proud," he said.
NFF vice president Seyi Akinwumi said the board was involved in proper deliberation before engaging Keshi.
"We have agreed to adopt international best practices in the appointment of a new coach. This will be adopted in inviting players to camp among other things.
"The new thinking of NFF is geared towards following proper means in running our football without any political interference.
"Those who allege that Keshi doesn't have pedigree to lead Super Eagles must have short memory because he has led our team to win Nations Cup," Akinwunmi said.
One of Keshi's immediate tasks would be how to navigate Nigeria's qualifiers for the 2017 Africa Cup of Nations after the failure of 2015. The qualifiers begin in June.