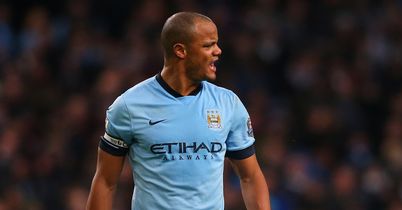 Mark Holmes asks whether Vincent Kompany has got off easily, suggests Arsene Wenger got lucky, and dismisses some Cristiano Ronaldo jealousy.
Kompany performance goes unnoticed?
Football, as they say, is a game of opinions.
Neil Ashton, for example, has spent much of his time since the end of Sunday's game at the Etihad Stadium defending his decision to rate the game's outstanding performer, Santi Cazorla, 7/10.
Barney Ronay, meanwhile, as part of the Guardian's weekly
'10 talking points' column
, chose to focus on Manchester City's failure to score at home for the first time in August.
The need for another striker, namely Wilfried Bony, is clear, Ronay attests, arguing that Manuel Pellegrini's side have relied too heavily on Sergio Aguero, despite them racking up a 12-game unbeaten run in his absence.
He does have a point, in fairness, that Bony can provide a different dimension to City's attack, but it is strange that anyone would come away from Sunday's game without asking serious questions of the hosts' defence, in particular Vincent Kompany.
Opinions were split on whether his block on Nacho Monreal warranted a penalty - there was some brilliant juxtaposition in the Daily Mail with Graham Poll's 'Dean was spot on for penalty award' column appearing next to Ashton in which he accused Monreal of simulation - but even Pellegrini accepted afterwards he had made a mistake in moving his body towards Monreal rather than attempting to jockey him away from the goal.
A lack of match sharpness was offered as a fair excuse for Kompany's performance on his return from injury, but mistakes have been creeping into his game for a while now.
Even Arsenal's second goal, easily headed home by Olivier Giroud after he was left by Fernando, threw up questions about Kompany's organisation and leadership.
Even if you do not agree with that, it is hard to dispute it was an extremely poor goal to concede from City's point of view.
It is an irrelevant statistic, particularly when taking David De Gea's form into consideration, but City have now conceded more Premier League goals than Manchester United this season.
It would be wrong to overreact, of course, certainly on the back of such an outstanding run of performances for City through December, but with Eliaquim Mangala still some way off justifying his transfer fee, any criticism of the Blues must surely be aimed at their backline rather than the forwards that were simply kept out by a brilliant Arsenal display.
Wenger gets lucky with Coquelin
While Ronay could be accused of missing the major talking point of City's defeat, his assertion that Arsene Wenger may have got lucky with Francis Coquelin is hard to disagree with.
Journalists have been falling over themselves to praise Wenger's tactics at the Etihad, but Ronay is spot on that Coquelin, who was a key performer in a holding midfield role, 'would most likely not have played' had Wenger had a full-choice squad to choose from.
Indeed, rather than praise Wenger for his use of the Frenchman, or his tactics in general, the frustration for Arsenal fans must be that the manager has not understood the benefits of using a genuine defensive midfield player.
Even after Sunday it is hard to shake the feeling Coquelin might find himself out of the team if Mikel Arteta and Jack Wilshere are both available the next time Arsenal play such an important game.
Furthermore, as Ronay points out, 'it would be wrong to suggest Coquelin is the missing piece in the jigsaw for Arsenal.'
He is exactly what they need in that he is a defensive midfielder, but a player that struggled to make a big impact at Charlton has not suddenly become good enough, despite a couple of performances to suggest otherwise, to start regularly for a side with ambitions of winning trophies. He is a stop-gap, albeit a square peg in a square hole for once.
Wenger deserves praise for his approach at the Etihad, but the challenge for the Frenchman now is to prove it was not simply a fluke.
Poorly-timed columns of the week
Only a handful of people know what the relationship between Gareth Bale and Cristiano Ronaldo is like at Real Madrid, and it is not too much of a stretch to suggest the Sunday People's Neil Moxley is not among them.
It has not stopped him, however, like many others, from making waves about Ronaldo's angry reaction at not receiving a pass from his Welsh team-mate during Real's win over Espanyol last weekend.
Carlo Ancelotti defended Bale's decision to shoot rather than pass after the game, reasonably attributing it to the natural instinct of a forward, adding that relations between him and Ronaldo are "very good".
Ronaldo himself then did his best to calm the frenzy on the evening he won a third Ballon d'Or trophy.
"Madrid fans are always the same, they are very intense, they show what they feel, they aren't liars,"
he said
.
"But I think the things with 'Gaz' are normal because they know that Gaz is a very important player for us, a key player.
"What happened on Saturday is in the past, sometimes I make mistakes too so it's part of the business, part of football. I think the people will be nice with him and they should be nice with him."
Bizarrely, though, Moxley managed to put a negative spin on Ronaldo's comments, quoting only 'I think things with Gaz are normal', and going on to suggest the Portuguese should have urged Real fans to support Bale.
That is
exactly
what he did, of course, but the description of Ronaldo as 'the perfectly toned, perfectly presented plasticine man' suggests a man that was not about to let the facts get in the way of a good rant.
Unfortunately for Moxley, both Bale and Ronaldo scored in Real's 3-0 win at Getafe on Sunday, with the pair's obvious dislike of each other brilliantly caught on camera.
Errm....
While Moxley may have been left to rue his column within a few hours of it hitting the breakfast tables, it may have seemed pertinent to some for a few hours at least.
Terry Gibson's column in the Daily Star Sunday, however, was out of date before it had even gone to print.
'To me, Radamel Falcao is the king of strikers,' it began, on somewhat controversial ground given the Colombian's form for Manchester United this season.
By the time Gibson had labelled it a 'crime' that Louis van Gaal was not playing Falcao more, the day after he had played for the full 90 minutes at QPR, you couldn't help but feel this was a column that should never have seen the light of day.
And that was before Gibson had even said that Falcao was 'on a par with Sergio Aguero'.
Falcao arrived at Old Trafford with a phenomenal goalscoring record and may well yet prove himself in the Premier League if he can get back to full fitness. In fact, despite drawing a blank in front of goal, his performance at Loftus Road on Saturday was promising.
Still, coming off the back of what some are describing - perhaps harshly given the slight touch of the ball Steven Caulker got on the way through - as a contender for miss of the season, Gibson's glowing recommendation could not have been more hilariously timed.
The perils of ghostwriting!