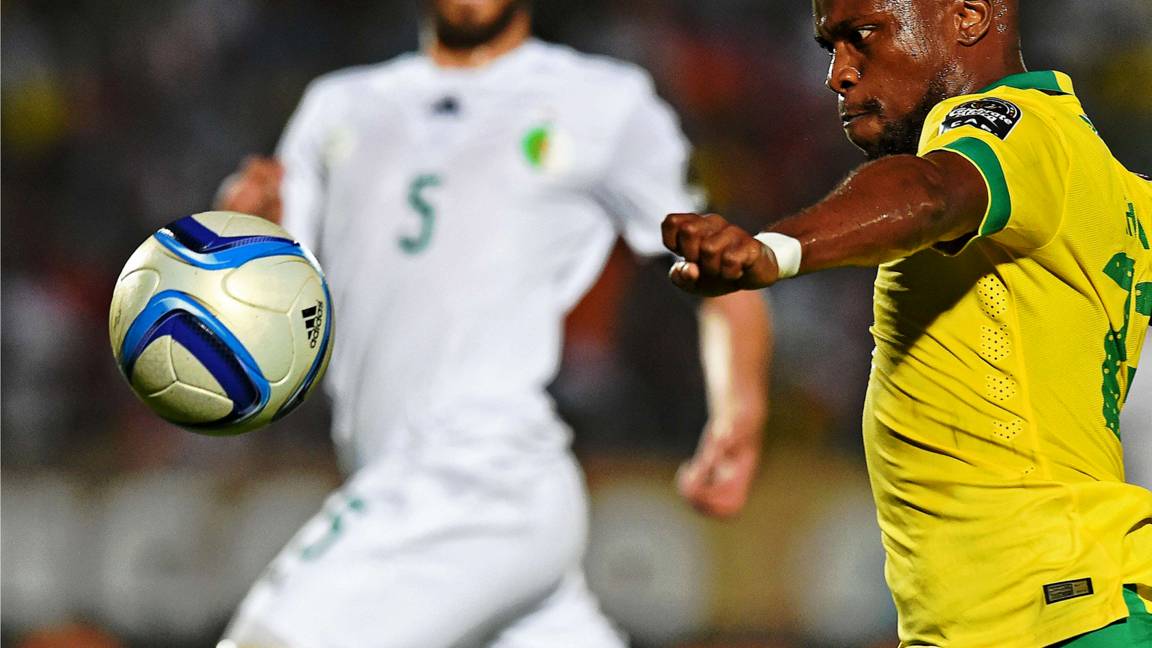 Tomorrow, Yaya Toure and the gang start their campaign as Ivory Coast face Guinea. Mali take on Cameroon...is Roger Milla still playing?

If only. Join us to see if any of Cameroon's players can move like the great man from 15:30 GMT tomorrow and thanks for being with us today, top tweets as ever.

Algeria 3-1 South Africa

BBC Sport's Matthew Kenyon in Mongomo: Algeria make sure they go over to the far side to celebrate with their fans. It didn't look like they'd have the chance with less than half an hour to go. What a turnaround - to go with a similar story in the earlier game. Group C lives up to its expectations...

Gyan hopes to play a part

Tournament news

Some tournament news away from this thriller...... Ghana's Asamoah Gyan is hopeful he will play a part in the tournament despite missing his side's 2-1 defeat to Senegal earlier today with a "mild bout of Malaria".

"We're disappointed - I thought at times we should have used our experience," he said. "They were putting pressure on us - they took control in the last 30 minutes and we should have fought for the draw. But we lost concentration and we conceded a goal in the last second of the game.

"I was there to support my team - and we lost today. I'm feeling much better now - I'm talking to the medical team and we'll see what happens."

Algeria 3-1 South Africa

A game well balanced and competitive but Algeria show their ruthless side and will top Group C on goal difference.

Algeria 3-1 South Africa

A game which hinged on a 21 minute period which extended from South Africa opener to Algeria's second. In that time frame Bournemouth striker Tokelo Rantie smashed a penalty against the cross bar and what could have been a 2-0 lead turns into defeat and a heap of questions for the 1996 winners.

FULL-TIME

Algeria 3-1 South Africa

Algeria 3-1 South Africa

Home-grown continuity seemed handy until a stray penalty...

Algeria 3-1 South Africa

Islam Slimani has 17 goals in 38 league outings for Sporting Lisbon and he has looked a handful here when Algeria eventually broke into the game. Certainly one to keep an eye on as this tournament progresses.

Algeria 3-1 South Africa

Substitutions, half-hearted play, this is like a golf conclusion where the leader has a 10-shot lead (unless it's Martin Kaymer). All over as the board goes up for injury time.

South Africa boss Ephraim Mashaba stands hands on hips and mutters on the touchline.

Algeria

Algeria 3-1 South Africa

Fifa World Ranking: 18

Population: 38.7m

National dish: Cous Cous

Main export: Crude Petroleum

Algeria 3-1 South Africa

As we enter the final five minutes, you must ponder how Bafana Bafana players will sleep tonight. They were on top 25 minutes ago. This will be tough to recover from.

Algeria now look solid but South Africa in truth have nothing left.

GOAL

Algeria 3-1 South Africa - Islam Slimani

I put the kiss of death on South Africa goalkeeper Darren Keet. I'd actually added him to my list of impressive performers. Sorry mate.

He lets an Islam Slimani shot from 18 yards dribble under his body. This one is all over. A bizarre and captivating second half.

Slimani celebrated in style, screaming into a camera lense. Not quite a Totti selfie but decent.

South Africa

Algeria 2-1 South Africa

Fifa World Ranking: 52

Population: 54m

National dish: Bobotie - is a South African dish that has Cape Malay origins. It consists of spiced minced meat baked with an egg-based topping. Of the many dishes common to South Africa, Bobotie is perhaps closest to being the national dish, because it isn't made in any other country.

Main export: Expensive stuff - Gold, followed by platinum, followed by coal, followed by diamonds.

Algeria 2-1 South Africa

BBC Sport's Matthew Kenyon in Mongomo: I can see a big Egyptian flag flying over on the other side of the stadium... the serial former champions aren't here of course, but yesterday I met a group of Egyptian workers based here in Mongomo, who were planning on coming to support their fellow north Africans tonight. I think I just found them again.

They'll be in good mood now Matthew.

SUBSTITUTION

Algeria 2-1 South Africa

Off comes Tokelo Rantie and what will be going through his mind. His side were one up and riding the crest of a wave, playing with energy and on their way to victory when he had a chance from the penalty spot to make the difference two.

His effort thudded the bar and he may want to down a few drinks in the hotel bar as a result. Bongani Ndulula is on in his place...

Algeria 2-1 South Africa

Faouzi Ghoulam has played 36 times for Napoli since signing in January of 2014.

Algeria 2-1 South Africa

BBC Sport's Matthew Kenyon in Mongomo: As soon as that fell to the feet of Faouzi Ghoulam you knew where it was going. The way he held himself - and then launched such a powerful shot. Fine finish. SA will think about that penalty a bit more now... it's quieter in the press box again.

GOAL

Algeria 1-2 South Africa - Faouzi Ghoulam

Napoli defender Faouzi Ghoulam is big and powerful and as the ball drops to the left back on the angle of the area he pushes it past his man, throws him aside and just puts his foot through the back of the ball.

It goes through the goalkeeper and rustles the net. An angry finish. A swing of the left foot as vicious as the swing in this match.

GET INVOLVED

Join the debate at #bbcafcon2015

Ejikeme Ike IkeChi:

Really enjoying this match, me think it is the most entertaining match so far in the ongoing Afcon 2015.

GOAL

Algeria 1-1 South Africa (Own goal - Thulani Hlatshwayo)

The first own goal of the tournament arrives and it's a miserable moment of fortune for Thulani Hlatshwayo. An in-swinger from the left flank by Algeria's star man Yacine Brahimi is dangerous and the South African centre-back puts his head on it.

It's in from the moment he does, looping over Darren Keet. The turf here is not quite settled and could maybe swallow Hlatshwayo up as he's probably wishing.