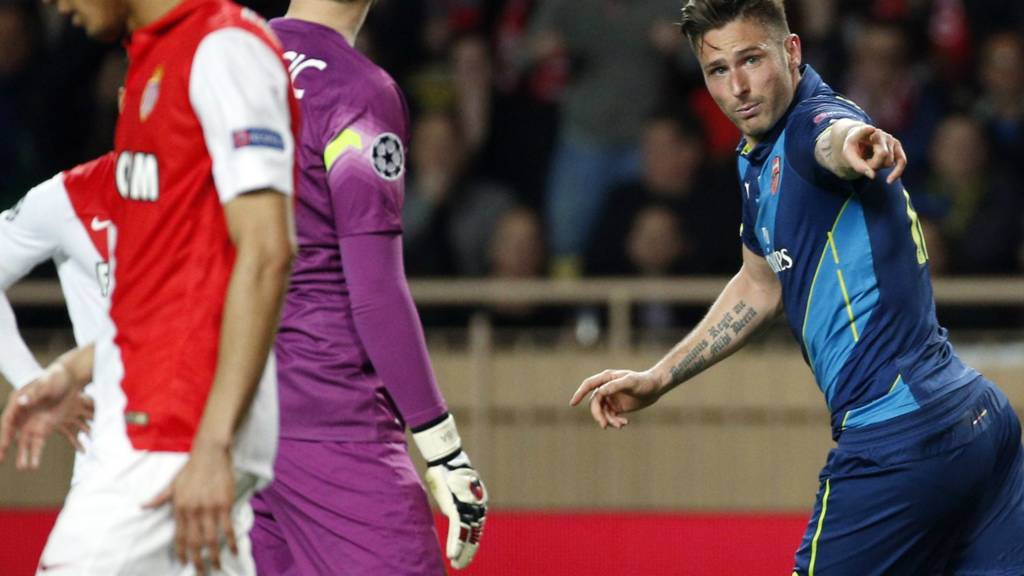 Monaco 0-1 Arsenal (Agg 3-2)

Arsenal had eight attempts on goal in that first half, Monaco just one. The hosts will be worried if the Gunners get a second...

Monaco 0-1 Arsenal (Agg 3-2)

Toby Goodman: Where was this Arsenal at Arsenal?

Gabriel Counsell: Difficult to see how this Monaco team have such a good defensive record. Holes everywhere!

Roberta-lyn Grant: If Arsenal manage to overcome this deficit and progress, I think they'll win the Champions League this year.

Monaco 0-1 Arsenal (Agg 3-2)

"Apart from the first 10 minutes when they looked a little nervous, Arsenal have played exceptionally well. I might bring Ramsey on for Ozil, allowing Cazorla to push on, have a free role and have an influence on this game.

"But Arsenal have done everything right up to now. Start the second half the same way and they'll get another goal. And Monaco will get more and more nervous as the game goes on."

Cherries on top

Will we see Bournemouth in the Premier League next season? It looks very much that way.

As half-time whistles continue to toot around the country it's the Cherries who are on top of the Championship table.

Monaco 0-1 Arsenal (Agg 3-2)

"Arsenal will be very hopeful indeed. They are by a country mile the better team here, and have created some very good chances as well as getting the goal. What an encouraging half from Arsenal. They have done the minimum they had to do. Now they need to crank things up in the second half."




HALF-TIME

Monaco 0-1 Arsenal (Agg 3-2)

The whistle goes with the Gunners on song. Mesut Ozil swaps shirts with a Monaco defender as they come off - a lot of people won't like to see that...

Monaco 0-1 Arsenal (Agg 3-2)

Chance! Unlucky Olivier Giroud, Danny Welbeck drills a cross at him, like a shot, and Giroud gets a thigh to it but can only steer it at goalkeeper Danijel Subasic.

Seconds later Welbeck has another shot from a tight angle. Arsenal ending the half well on top.

Monaco 0-1 Arsenal (Agg 3-2)

"Joao Moutinho was just fouled then, and went to ground clutching his face. Coquelin, who made the challenge, was nowhere near his face. I think the referee should have punished Moutinho. That's a yellow card for me, because that's as much simulation as a dive."

Monaco 0-1 Arsenal (Agg 3-2)

One nil up at Monaco at half-time? Arsene Wenger would have settled for that. Plenty of time to really go at it in the second half.

at Stade Louis II for 5 live Sport

Monaco 0-1 Arsenal (Agg 3-2)

"I'm not convinced that was a penalty, but I'm not convinced it was a yellow card either. And the referee was in a good position.

"At the moment, this game is set up in just the way we wanted. But is it all set up for glorious failure?"

YELLOW CARD

Monaco 0-1 Arsenal (Agg 3-2)

Alexis Sanchez is booked for a dive - Arsenal want a penalty.

The Chile forward does go down pretty easily but he was touched by Fabinho. He's furious, Sanchez. No penalty though.

Monaco 0-1 Arsenal (Agg 3-2)

Olivier Giroud may be getting more than a 2/10 from newspaper L'Equipe tomorrow. He's proving a menace to society up there. Arsenal need two goals in 50 minutes to progress.

As gambles in Monte Carlo go, it's a pretty good one. The house always wins though - doesn't it?

Join the debate at #bbcfootball

Monaco 0-1 Arsenal (Agg 3-2)

Joe Wedgwood: Yes Giroud! How's that to stick it to his critics! C'mon Arsenal!

Nathan: Arsenal ahead, but I just can't see them keeping a clean sheet this match.

Jerry Elumeze: Arsenal have lacked belief. Perhaps the goal will change that...

Monaco 0-1 Arsenal (Agg 3-2)

Arsenal flying now, confidence coursing through the side. The home crowd are calling for the half-time whistle. They've got minutes and minutes to hang on yet...

CLOSE!

Monaco 0-1 Arsenal (Agg 3-2)

Almost a second! Danny Welbeck middles a shot from the edge of the box, catches it as sweet as you could ever wish to hit a ball, it's flying in but hits defender Aymen Abdennour on the floor!

Monaco 0-1 Arsenal (Agg 3-2)

"I like that from Giroud! He has been putting himself about tonight, working his socks off. That wasn't the most beautiful goal you've ever seen but such clever use of his physique. It was a really nice finish on the rebound, into the roof of the net.

"We wanted that to happen, we wanted to see the question asked of Monaco. The hosts started well but have been second-best for the last 20 minutes. They are beginning to lose their shape, which I didn't expect to see."

GOAL

Monaco 0-1 Arsenal (Agg 3-2) - Olivier Giroud

Back of the net! It's a wonderful finish at the end of more scrappy play. Danny Welbeck sends Olivier Giroud in behind the Monaco backline, goalkeeper Danijel Subasic saves his first effort which spins up and hits Giroud on the head. He turns, steadies himself and then with two defenders on the line, fires into the roof of the net from a tight angle.

He took it brilliantly.

Monaco 0-0 Arsenal (Agg 3-1)

Monaco look a little bit unsure of how to approach this one - a goal for Arsenal would really kick this game up a notch. As it is it's all a bit scrappy.

Monaco 0-0 Arsenal (Agg 3-1)

"Dimitar Berbatov is languid. He's such a stylish player, and at the moment his attitude out there is good. But we've all seen games where his performances can best be described as 'slack'."

Elsewhere in Europe

There is one other game going on this evening in the Champions League - and there has been a goal. Last season's finalists Atletico Madrid take a 1-0 lead against Bayer Leverkusen through Mario Suarez to make it 1-1 on aggregate. Going to penalties as it stands - long way to go, mind.

Monaco 0-0 Arsenal (Agg 3-1)

A cross from Alexis Sanchez is helped back in by Danny Welbeck, Olivier Giroud does well to let it drop but before he can get a shot off Aymen Abdennour does really well to manoeuvre his body into a blocking position.